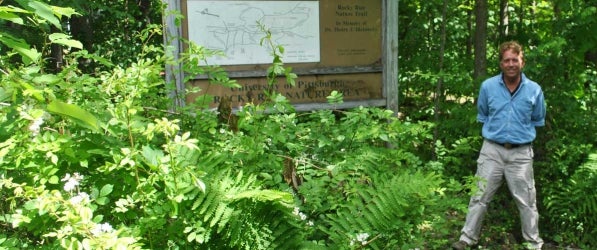 Supervisor of Campus Grounds Dave Finney at Pitt-Johnstown's Rocky Run Nature Trail.
Pitt-Johnstown has achieved a unique designation as a "Certified Audubon Cooperative Sanctuary" through the Audubon Cooperative Sanctuary Program (ACSP), an Audubon International program. Dave Finney, Supervisor of Campus Grounds, has led the effort to obtain sanctuary designation.
Pitt-Johnstown is the first Pennsylvania college or university to earn this certification, and only the eighth overall, according to Audubon International.
The announcement was made by Audubon International on June 11, 2019. Pitt-Johnstown maintains a 655-acre campus with 15 miles of trails.
"The University of Pittsburgh at Johnstown has shown a strong commitment to its environmental program. They are to be commended for their efforts to provide a sanctuary for wildlife on their property," said Christine Kane, CEO at Audubon International. "By taking action to implement indoor and outdoor conservation projects, the administration, faculty and staff at the University of Pittsburgh – Johnstown have demonstrated their commitment to the sustainable management of their natural resources."
"To reach certification, a property must demonstrate that they are maintaining a high degree of environmental quality in a number of areas," explained Kane. These categories include: Environmental Planning, Wildlife & Habitat Management, Water Quality and Conservation, Resource Management, and Outreach and Education. Properties go through a recertification process every three years."
The organization recognized Mr. Finney for his Environmental Stewardship.
"During the past three years, it has been my pleasure as the Supervisor of Campus Grounds to gather & document the environmental efforts of faculty and staff who have gone before me, as they worked thru the years to create and nurture this beautiful regional campus of the University of Pittsburgh," said Mr. Finney.
"I was especially grateful to be joined in our Audubon journey by Christine Dahlin, PhD, Assistant Professor of Biology and Bruce Robart PhD, Associate Professor of Biology. Finally, I would also like to offer my thanks for support from the Office of the President; Dr. Jem Spectar, the Office of the Vice President of Finance & Administration; Amy Buxbaum, as well as my colleagues here in Facilities Management at Pitt-Johnstown."
The Audubon Cooperative Sanctuary Program provides information and guidance to help businesses and organizations preserve and enhance wildlife habitat, and protect natural resources. Businesses, schools, parks, and other properties from the United States, Africa, Australia, Canada, Central America, Europe, and Southeast Asia have also achieved certification in the program.
Richard Kerins CGCS (Certified Golf Course Superintendent), owner and operator of Tom O'Shanter Golf Course, toured the property and forwarded his observations to Audubon International. "Through Dave Finney's work on his environmental efforts he is a great teacher to all of us," reported Kerins. "His work shows us how we can make a difference now and for the future." This site visit was the final step toward certification, which requires verification by an Audubon Steward.
---
About Audubon International
Audubon International is a not-for-profit 501(c)(3) environmental education organization dedicated to providing people with the education and assistance they need to practice responsible management of land, water, wildlife, and other natural resources. To meet this mission, the organization provides training, services, and a set of award-winning environmental education and certification programs for individuals, organizations, properties, new developments, and entire communities. For more information, contact Audubon International at (518) 767-9051 or visit the website at  www.auduboninternational.org.
---
The University of Pittsburgh at Johnstown was founded in 1927 and is the first and largest regional campus of the University of Pittsburgh. Pitt-Johnstown is recognized by the Princeton Review as a "Best in the Northeast" college, by G.I. Jobs as a "Military Friendly School," and by Pennsylvania Business Central as a "Top 100 Organization." The distinctive combination of Pitt-Johnstown's people, programs, and place results in exceptional performance in preparing students for career and professional success. Pitt-Johnstown is the regional leader, educating for success in the Real World.