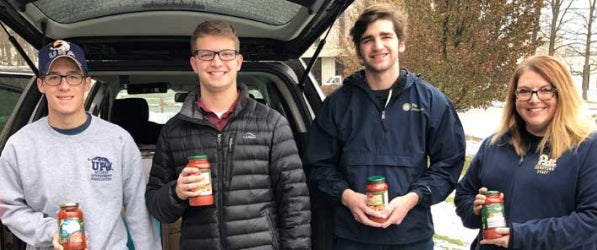 The Pitt-Johnstown Student Government Association's recent Food 4 Fines program introduced an unusual math formula: 17 + 261 - $605 = 150.
Food 4 Fines allowed students who owed money for unpaid parking citations an opportunity to reduce or eliminate their fines by donating food items from December 3-7.
It's true the aforementioned equation does not add up. However, a closer examination of the factors brings about a degree of logic as to its result:
17 participants, including two donors who were not fined;
261 boxes of pasta (104) and jars of spaghetti sauce (157) collected;
$605 in forgiven parking fines, including three people with $100 in fines; and
150 meals for local families through the Family Kitchen of Johnstown.
The program facilitated giving through forgiveness and provided a means of paying off fines through the following increments:
$5 off for 3 16 oz. boxes of spaghetti or pasta; 
$5 off for 2 24 oz. jars of spaghetti sauce; 
$10 off for a 60 oz. jar of spaghetti sauce and a box of pasta; and
$5 off for any additional 3 pastas or 2 sauces.
"Students were willing to jump at the opportunity to lower their fine and to give back to our community," said SGA President Sam Miller. "It was just amazing."
The SGA and Office of Student Affairs steered the program in cooperation with the Pitt-Johnstown Catholic Campus Ministry. The collected items were delivered to Christ the Savior Cathedral in Cambria City on December 13.
"We really came together for a good cause," said Campus Activities and Engagement Director Heather Bloom Hall, who credited LaDonna McCrary, Pitt-Johnstown's director of Catholic Campus Ministry, with providing the impetus.
"I was contacted by Joan Boast (of the Family Kitchen) because a few churches had withdrawn from volunteering with meal distribution," said McCrary. "She asked if we could possibly provide 150 boxes of spaghetti and sauce for their grocery bags that they distribute at Christmas time to the less fortunate."
The request was passed along internally to Hall and then to the SGA. A social media discovery about parking fine reductions at another university was the final component of the formula.
The effort added up to a better holiday season for many.
In The News:
---
The University of Pittsburgh at Johnstown was founded in 1927 and is the first and largest regional campus of the University of Pittsburgh. Pitt-Johnstown is recognized by the Princeton Review as a "Best in the Northeast" college, by G.I. Jobs as a "Military Friendly School," and by Pennsylvania Business Central as a "Top 100 Organization." The distinctive combination of Pitt-Johnstown's people, programs, and place results in exceptional performance in preparing students for career and professional success. Pitt-Johnstown is the regional leader, educating for success in the Real World.