The Aran Islands, located off of Galway Bay, in western Ireland (above); the author at the Cliffs of Moher in Ireland (below).
By Kate Tuite
Note: Kaitlyn Tuite is a senior marketing major at Pitt-Johnstown. She studied International Marketing and Pop Culture in Ireland through the Pitt-Johnstown/University of Pittsburgh Study Abroad Program.
When most people think of Ireland, they think of two things: Lucky Charms and sheep.
When I think of Ireland, I think of one thing: my study abroad home.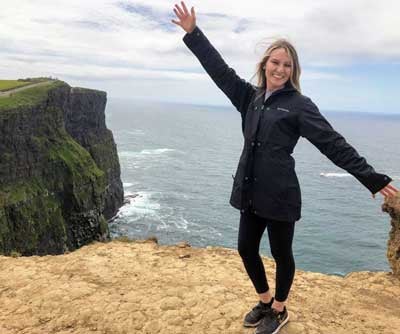 I am happy to report from my experience in Ireland, I only saw Lucky Charms cereal in an American-themed candy store in Dublin, and you can't go five miles in the countryside without seeing a flock of sheep.
The landscape was also breathtakingly green. Living in Ireland for about six weeks was an experience of a lifetime; an experience that I will never forget. Pitt-Johnstown and Pitt's Study Abroad program gave me this experience.
The incredible study abroad program can send any student to just about any country. There are a few steps you have to take to get there.
The applying process very easy and simple.
1. Visit the university website study aboard section, find your program, and hit apply. There is a quick application asking why you want to study aboard and what you think you'll learn from the experience.
Each application is usually due the semester before the start of the program.
You could fill it out months in advance, or in my case, the week before.
2. Once accepted, a checklist with all of the important documents is sent. But don't worry, you have months to get all of this in.
3. A meeting with all the students in your program is set up. So, if you're like me and signed up alone, you will meet the students you're exploring a whole new country with before you go there.
That was the easy part. After everything is in and your program start date is near, the hardest task comes in – packing! My advice is that you pack for all weather. You can look at the average temperature for your country as a guide, but also pack for the unexpected. For example, when thinking of Irish weather, cold and rainy usually comes to mind. When I was there in 2018, it was Ireland's hottest summer since the 1970s! So, if you're going to a place like Ireland in the summer and expecting cool temperatures, just pack a little bit of summer clothes because the weather is unpredictable.
You may choose your classes through the during your pre-departure process. This is just the time period between your acceptance date and program start date.
I took International Marketing and Pop Culture in Ireland.
However, these are not like your typical classes. The professors know that you want to be out experiencing a new country, so they usually set up a field trip or two. In my case, it was almost every class. Instead of lecturing about James Joyce's Ulysses, our professor took us on a walking tour of Dublin that included important locations in the book. And, instead of lecturing on important international marketing techniques, our professor took us to one of the biggest international businesses in Dublin to learn about it firsthand.
The program was set up to allow for a couple of days of free time before classes started to explore our base city of Dublin. Also, there may be little trips around your study aboard country.
One of my favorites was a trip to Inishmore (Inis Mór), the largest of the Aran Islands. This is home to the famous fort of Dun Aonghasa, which dates back to 1100 B.C. (It was in the proposal scene in the movie Leap Year with Amy Adams). It is more beautiful in person. Personally, I think it was more breathtaking than the Cliffs of Moher. You can also get some fresh butternut squash soup and brown soda bread at the café at the beginning of the trail. Or you can look at the hand-knitted Aran sweaters from the sweetest ladies you'll ever meet.
The Pitt-Johnstown/Pitt study abroad program is amazing. While I preferred international marketing in Ireland, studying your interest and in the country of your choice is just a click or two away.