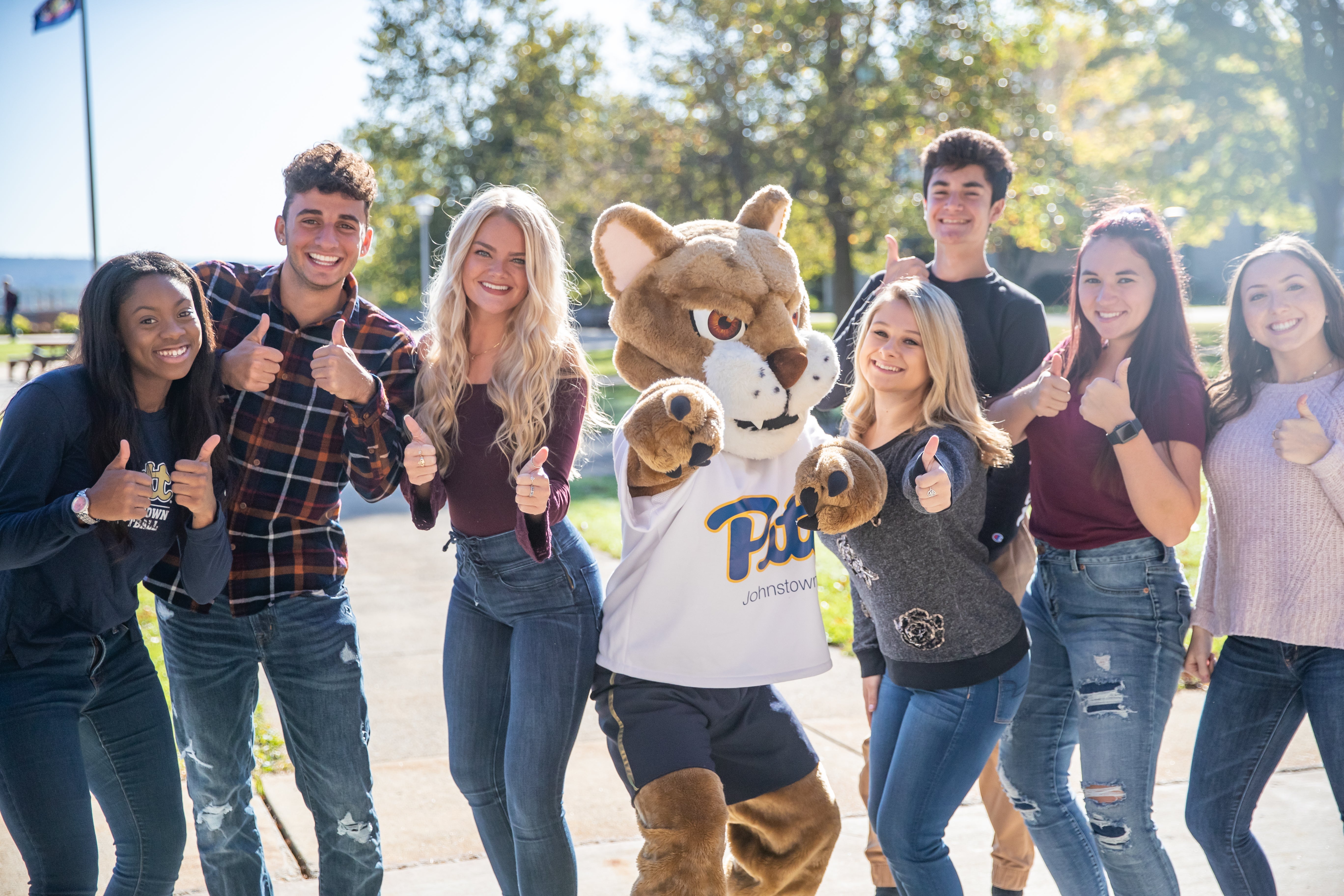 Congratulations on your acceptance to the University of Pittsburgh at Johnstown! This quick reference guide helps you with the next steps to get you on board as a Mountain Cat through the next several months, right up to the start of classes. Most of the steps pertain to incoming freshmen. 
If at any time during this process you consider changing your major, please contact upjadmit@pitt.edu and an admissions counselor will respond to your request.
We're here for you! Please send your questions or concerns to: upjadmit@pitt.edu or call us at 1-855-LIKE-UPJ.
Download the quick reference guide and checklist to keep you on track!
ANYTIME
CELEBRATE!
This is a big deal! Share this moment with friends and family. Make sure they know you are #pittjohnstownbound!  
Our favorite social media posts will receive an awesome Pitt-Johnstown tee. 

APPLY FOR FINANCIAL AID
Complete the Free Application for Federal Student Aid (FAFSA) online at www.fasfa.gov
Pitt Johnstown's School Code for filing the FAFSA: 008815
Priority filing deadline: April 1.

EXPERIENCE PITT-JOHNSTOWN
Visit upj.pitt.edu/visit to connect with admission staff, faculty, and tour campus in-person or virtually.

COMMIT TO PITT
Make it official. To secure your seat.  Submit your $100 non-refundable tuition deposit by
May 1. For more details visit upj.pitt.edu/tuitiondeposit. 
And if you haven't already done so let them know you're #pittjohnstownbound!

UPDATE YOUR ACCOUNT
Gain access to additional enrollment and university resources at my.PITT.edu and PITTmobile including your new pitt.edu email address.  Check this often for updates and details to help you stay on track to Becoming a Mountain Cat!
---
SPRING
ATTEND ADMITTED STUDENT DAY
Our Admission staff will conduct a weekly presentation every Friday at 3:00 pm, that will discuss the Next Steps of the enrollment process and answer any questions. Presentations will include prepping admitted students for Academic Planning Day, Applying for On-Campus Housing, Student Engagement, etc.

ADVISING & SCHEDULING PROFILE
A key part of the pre-registration process. This module provides your advisor with the information needed to create your fall class schedule and get you off to a great start.

ALEKS MATH PLACEMENT ASSESSMENT
Another important component of the pre-registration process, the ALEKS Math Placement Assessment ensures that you are scheduled for the mathematics course that best fits your abilities and academic program.

HOUSING APPLICATION & PITT EATS MEAL PLAN 
Oak, Hemlock, Hickory, or Laurel? Which first-year residence hall will you call home? Submit your $150 room deposit and our roommate match system will help you find the best fit and maybe a lifelong friend!

STUDENT HEALTH CENTER DOCUMENTS
Your health and well-being are our number one priority. Please ensure that all of your Student Health Center information is up to date and submitted online at campusservices.upj.pitt.edu.

ONLINE ORIENTATION
A lively, interactive on-line orientation that you can complete at your own pace. It's a great introduction to the resources available to make your Pitt-Johnstown experience a great one!
---
LATE SPRING/SUMMER
MOUNTAIN CAT CARD STUDENT ID
Make it a good one!  Upload your photo at www.pc.pitt.edu/panther-card. Your Mountain Cat Card identifies you as member of the Pitt-Johnstown community and provides access to on-campus resources and discounts at many "Pitt-Stop" restaurants and retailers.

SUBMIT AP SCORES AND COLLEGE IN HIGH SCHOOL TRANSCRIPTS

ATTEND ACADEMIC PLANNING DAYS
Academic Planning Days are a Pitt-Johnstown tradition.  Meet faculty, staff, and other current and future Mountain Cats.  Your Academic Planning Day will include additional information on academic, social, and personal resources as well as the opportunity to review and discuss your fall class schedule.  
2022 ACADEMIC PLANNING DAYS:  July 8 (In-Person) July 15 & 28 (Virtual) 
Registration available on the Academic Planning Days website.

REVIEW YOUR PITTPAY ACCOUNT
PITTPay, at my.pitt.edu is your on-line resource for reviewing account balances and making tuition, housing and other payments.

REGISTER YOUR VEHICLE
Yes!  You can have a car your first-year! But all vehicles must be registered!

MOVE-IN DAY & WELCOME WEEK
Another Pitt-Johnstown tradition and our second favorite day of the year! Pitt-Johnstown Residence Life staff and others will be on hand to help make your move-in process as smooth as possible.
---
OTHER HELPFUL RESOURCES: