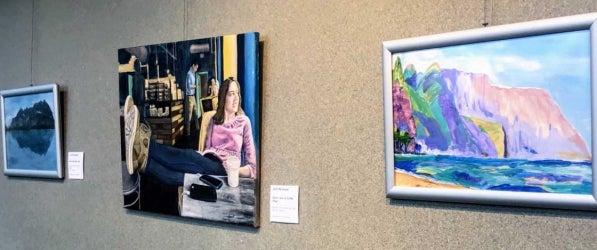 By Kate Tuite
Pitt-Johnstown's Pasquerilla Performing Arts Center currently displays an art exhibit based on mental and physical health awareness called The Art of Healing. The exhibit features artwork from Southern Alleghenies Museum of Art's Healthcare Partnership Program.
First introduced in 2003, SAMA's Museum Healthcare Partnership Program works with Conemaugh Health System to help residents suffering from mental and physical disabilities by offering art workshops.
The Art of Healing exhibit is the product of teaching artists Deb Bunnell and Jamie Cooper, who are two of many artists and educators hired to lead workshops that bring relief to those who are feeling pain and discomfort.
The exhibit features a handful of artists that showcase individual talent and workshop pieces. Also, journals of the artists throughout their workshop experience are on display.
Since the start of the program, SAMA's Museum Healthcare Partnership Program has helped more than 800 individuals in western and central Pennsylvania.
SAMA has created an opportunity for these patients to have the chance to work with professionals to learn how to create different art pieces like painting, sculpting, storytelling, and different varieties of crafts.
In the past few years, SAMA's program also extended to working with veterans and citizens suffering with mental health.
This program is possible through funding from the state agency, the AIE Partnership of the Pennsylvania Council of the Arts.
The Art of Healing officially opened on March 21, and will go on through May 10. The exhibit is free of charge and will be open from 10 a.m. to 5 p.m. Tuesdays through Fridays and 1 p.m. to 5 p.m. Saturdays.
---
The University of Pittsburgh at Johnstown was founded in 1927 and is the first and largest regional campus of the University of Pittsburgh. Pitt-Johnstown is recognized by the Princeton Review as a "Best in the Northeast" college, by G.I. Jobs as a "Military Friendly School," and by Pennsylvania Business Central as a "Top 100 Organization." The distinctive combination of Pitt-Johnstown's people, programs, and place results in exceptional performance in preparing students for career and professional success. Pitt-Johnstown is the regional leader, educating for success in the Real World.