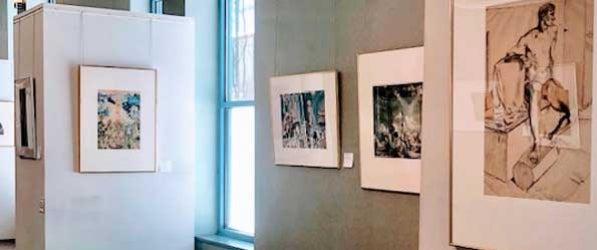 By Kate Tuite
Whether you are a lover of art or a student just taking a look between classes, "Theaters of the Imagination: The Early Works of Colleen Browning" has something for everyone.
This Southern Alleghenies Museum of Art exhibit runs through March 15 in the Pasquerilla Performing Arts Center gallery on the Pitt-Johnstown campus.
This exhibit features 40 works from SAMA's permanent collection, which includes art from Browning, a painting prodigy.
Paintings from her earliest age (12 years old) to her vastly different fantasy pieces are displayed throughout the PPAC gallery.
Browning was born in 1918 in Great Britain then immigrated to the United States in 1949, where she became a leader in the magic realist movement. She came to New York and became an art professor at the Pratt Institute and the City College of New York, and an instructor at the National Academy of Design, where she shared her love of art with her students.
Her work as been shown the Whitney Museum of Art, the Pennsylvania Academy of Fine Arts, the Walker Art Gallery, the Cleveland Museum of Art, and the Carnegie Museums in Pittsburgh.
The exhibit includes pieces from Browning's figurative/realistic work to her abstract/fantasy style. Browning, who died in 2003, tried different techniques and forms throughout her life.
Her techniques are shown through works that feature a use of gouache paints, watercolor, ink, graphite, and oil.
Browning expressed her love for abstracted fantasy and imagination with oil paintings "The Dance" 1945 and "The Bathers" 1945.
Her techniques show their range in her more realistic portraits. The original 1938 piece "Seated Woman with Hand Resting on Forearm" or her "Three Girls with Daisies" are from the 1960s.
Regardless of your taste, stop by and let Colleen Browning expand your imagination.
---
The University of Pittsburgh at Johnstown was founded in 1927 and is the first and largest regional campus of the University of Pittsburgh. Pitt-Johnstown is recognized by the Princeton Review as a "Best in the Northeast" college, by G.I. Jobs as a "Military Friendly School," and by Pennsylvania Business Central as a "Top 100 Organization." The distinctive combination of Pitt-Johnstown's people, programs, and place results in exceptional performance in preparing students for career and professional success. Pitt-Johnstown is the regional leader, educating for success in the Real World.