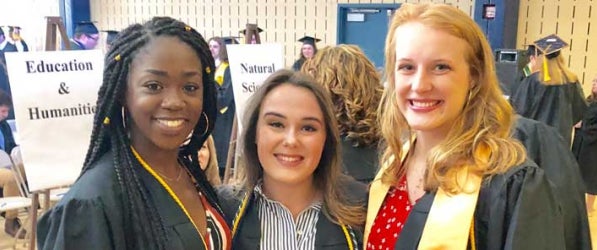 Pitt-Johnstown marked its 47th Commencement ceremony on April 27, 2019. The event honored approximately 400 graduates and welcomed more than 2,000 of the graduates' family members, Pitt-Johnstown faculty, and staff. The ceremony was held in the Pitt-Johnstown Sports Center. 
Best-selling author and science writer David Epstein was the honorary speaker.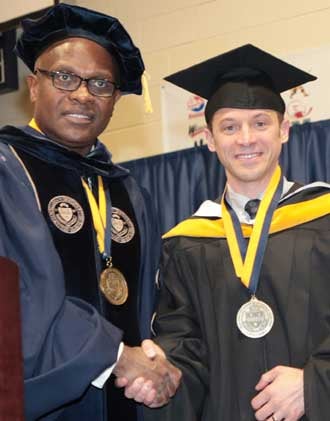 Pitt-Johnstown President Jem Spectar congratulated the graduating class, and their families, during his remarks. 
The National Anthem was led by Erin Whyte, Class of 2019. The Commencement Address was given by Samuel Miller, Class of 2019 and Student Government Association Past President.
Mr. Epstein told students they don't know the future person they will be, so "the question is: 'how do you prepare to be that person?' A lot of changes are ahead and you must be ready to reinvent.
"Your task is to learn about yourself so you can tailor your environment to your strentghs."
Mr. Epstein's top-10 New York Times best-seller, The Sports Gene, took readers inside the surprising science of extraordinary athletic performance. In his book, Range: Why Generalists Triumph in a Specialized World, he examined the world's top performers, from professional athletes to artists, scientists, entrepreneurs and Nobel laureates.
He told graduates the story of Frances Hesselbein, a personal acquaintance of his and a Junior College of Johnstown (now Pitt-Johnstown) alumna from 1936. The 103-year-old Hesselbein, referred to as America's Greatest Leader, rose from the role of volunteer troop leader to CEO of the Girls Scouts of America.
The University of Pittsburgh established The Frances Hesselbein Leadership Forum at the Graduate School of Public and International Affairs (GSPIA) in 2017.
"You, like Frances Hesselbein, can go farther than ever imagined," Epstein said.
Dr. Spectar presented Mr. Epstein with the President's Medal of Distinctive Excellence, the highest honor that the University of Pittsburgh at Johnstown bestows.
The award recognizes exceptional persons for their exemplary contributions toward making our world a better place. Honorees are chosen on a wide range of criteria including their social, cultural and humanitarian contributions, leadership in their professions as well as service to the community of humankind. Individuals receiving this prestigious honor make a positive difference in our world, their actions inspire and empower others to achieve their fullest potential; they contribute to human progress and enlightenment.
Also in attendance was Mr. Thomas Kurtz, '77, chair of the Board of Advisors and President / CEO of Chan Soon-Shiong Medical Center at Windber and Chan Soon-Shiong Institute of Molecular Medicine at Windber.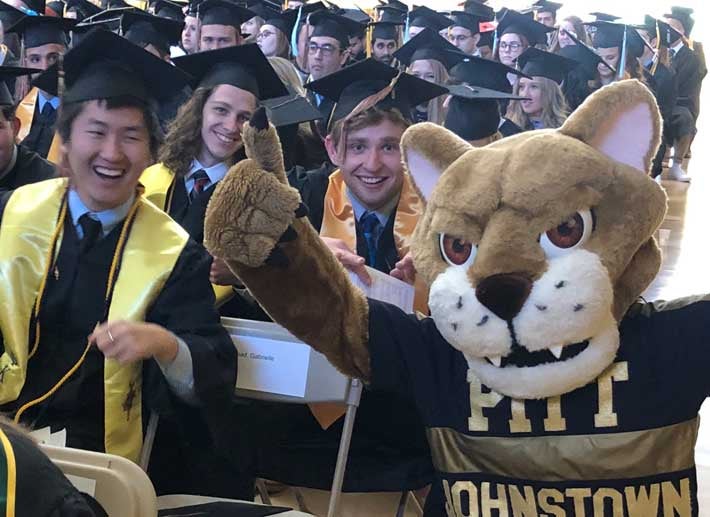 The University of Pittsburgh at Johnstown was founded in 1927 and is the first and largest regional campus of the University of Pittsburgh. Pitt-Johnstown is recognized by the Princeton Review as a "Best in the Northeast" college, by G.I. Jobs as a "Military Friendly School," and by Pennsylvania Business Central as a "Top 100 Organization." The distinctive combination of Pitt-Johnstown's people, programs, and place results in exceptional performance in preparing students for career and professional success. Pitt-Johnstown is the regional leader, educating for success in the Real World.