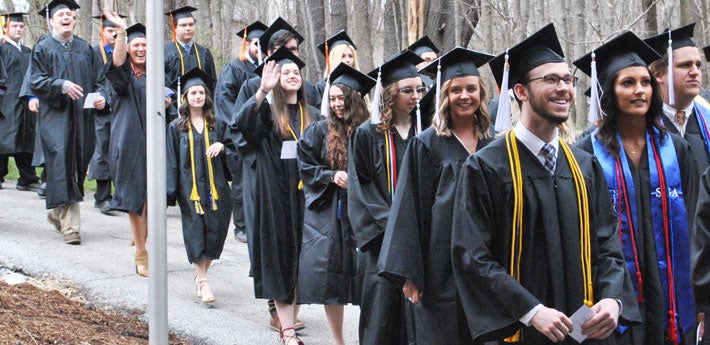 Ceremony is April 27, 2019, 1 p.m., Sports Center
Congratulations to the University of Pittsburgh at Johnstown 2019 graduates!
Graduation Day
Graduates must report to the Wellness Center Gym between 11 a.m. and noon.
Doors will open for guests at 11:30 a.m.
Guests should be seated by 12:30 p.m.
Important Pre-Commencement Steps for Graduates
It is required for students to RSVP to the Ceremony before tickets can be picked up.
The online reservation system will be available soon.
You should have already applied for graduation through the Registrar's Office. If not, apply for graduation now.
Information about the official Commencement Ceremony will be mailed to your home address by January 31, 2019, from the Office of Conference Services. After receiving this information, you must RSVP for the ceremony via the RSVP link.
If participating and marching in the Ceremony, you must purchase regalia (cap, gown, tassel) through the Pitt-Johnstown Book Center.
Each graduate will receive a limited number of guest tickets for the ceremony. Extra tickets are not available through Conference Services. However, extra seating is available to those without tickets in the adjacent Wellness Center Gym, where the Ceremony is broadcast live. Graduates must RSVP online in order to march and must purchase graduation regalia before picking up tickets.
Other Information
The Graduation Fair is scheduled for February 21. This is a one-stop shop event for graduates to take care of regalia, announcements, rings, flowers, guest tickets and more.
Detailed information will be mailed to eligible graduates in January and March.
Tickets are required for admission to the Ceremony. They will be available at the Graduation Fair. If not picked up at the Grad Fair, tickets will then be available at the Front Desk of the Living/Learning Center, April 1-12, 2019. Proof of purchase of regalia and Student ID will be required.
Graduation Fair
The Pitt-Johnstown graduation fair will be held:
February 21, 2019
Noon to 5 p.m.
Cambria Room - Student Union
Commencement FAQs »
Commencement RSVP »
This event is a one-stop shop for the graduating student's needs, including opportunities to:
purchase academic regalia
order personalized graduation announcements
order class rings
purchase diploma frames
pick up Commencement tickets (must have photo ID and proof of regalia purchase)
order Commencement flowers
order the 2019 Commencement video
Also, you may take advantage of numerous services offered by University departments, such as meeting with:
members of the Pitt-Johnstown Alumni Association
the office of Career Services
the Business Office 
Continuing Education representatives
the Registrar's Office
Financial Aid Office representatives