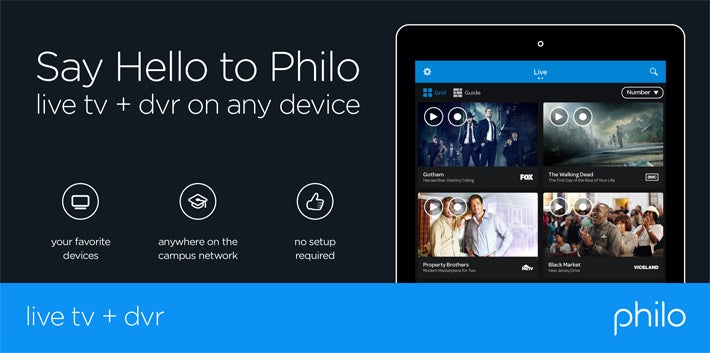 Pitt-Johnstown uses a streaming television system, Philo Edu.  The system lets you watch TV on your TV, computer, or mobile devices from anywhere in your residence hall.  With access to 60 channels, you have the option of watching live TV or recording shows for later with Philo Edu's DVR capability.  Please note that the service is available in residence halls only.  It is not available in other locations including academic buildings, the Student Union, Owen Library, and Wellness Center.  
 Here's what you need…
Television 

Connect Philo Edu to your TV via Roku.

Once Roku is connected, it needs to be registered in the University's gaming network at technology.pitt.edu/gaming. (Select "smart TV" when asked for device type.)

Note: You need to connect to Philo Edu to access the free on-campus service.  Philo Edu is DIFFERENT than Philo. 

For detailed information on how to configure your Roku box, click here for support.

A Roku TV, a smart TV with built-in Roku, or Roku device, running software version 4.7 or higher, is required to view Philo Edu on your TV.  A smart TV that does not contain the Roku app will not work on the system. 

 

Computer 

Go to watch.philo.com to start watching Philo Edu on your computer. (Philo is available on Chrome and Firefox.) 

Enter your Pitt-Johnstown username and password.

You must be connected to WIRELESS-PITTNET in order to view Philo Edu.  Philo is only available campus residence facilities.  

Mobile Device 

Text philo to 62687 for IOS and Android download links.

Or, visit the App Store  (IOS) or Google Play (Android) to download the app. 

You must be connected to ResNet (Pitt-Johnstown's residential network) in order to view Philo Edu.  ResNet is available in all campus residence facilities.  

 
Technical Support
If you are having problems logging into Philo, registering your Roku on the gaming network, or accessing ResNet (for your computer and mobile devices), contact the Pitt-Johnstown Help Desk (do not contact the Help Desk at the Pittsburgh campus, as they will not be able to assist you) in any of the following ways:
For all other issues, contact Philo technical support at: https://support.philo.com/hc/en-us/requests/new.