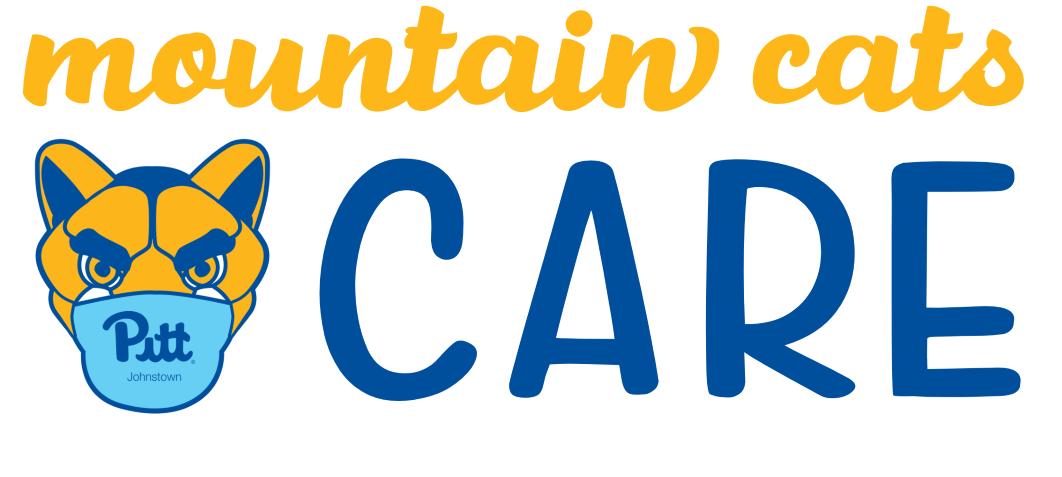 Pitt-Johnstown President, Dr. Jem Spectar invited SGA leaders to work together to develop a creative approach that promotes and reinforces positive behaviors that will help keep our Campus safe in the months ahead.  Noting this pandemic and other current societal crises are tests, whose outcomes will define the times and this generation's claim to greatness, Dr. Spectar urged students "to develop a challenge that builds on core community values of a shared sense of responsibility, solidarity, and empathy to create a safe community for all."
With the support of Campus leadership, UPJ students and Pitt-Johnstown's Student Government Association (SGA) launch an incentive program for students who practice the proper use of personal protective equipment and social distancing rules. The program will consist of campus events hosted through Student Activities and Residence Life and will include a wide variety of giveaways to help celebrate our commitment to our campus community.   Students could receive t-shirts, winter hats,  buttons, stickers, water bottles, ear savers, and #MtCatsCare face masks throughout the semester at these events. Students are encouraged to share their gear and the proper use of personal protective equipment in social media using the hashtag #MtCatsCare. 
An "I Mask Up For…." video challenge will be a prominent part of the program so that our campus community members can show their care and support for their fellow Mountain Cats. 
Chris Stumpf, VP of Student Affairs said, "I am so proud of our students and, specifically, our SGA for their development and support of this program to keep our community safe.  As always, we are MountainCatStrong!"  

Tessa Fry, UPJ's SGA President, said, "I find the MountainCatsCare Campaign crucial to our life here in the Pitt-Johnstown community. I expect our students to leave their mark on the world and this is just one simple and rewarding opportunity to do just that. By actively participating in this initiative we can help ensure safety for all Mountain Cats we care for and really drive home why we Mask Up." 
President Spectar said, "Mountain Cats Care clearly highlights the Campus' distinctive strength as "a supportive living-learning environment," a caring place, where people feel like family, where there is a great concern for one another, where respect for one another and responsibility towards each other are core values. This ethos of solidarity and mutual empathy are clearly what is needed at a time when we face not just a pandemic but other societal crises that require us to pull together and look after one another. UPJ Mountain Cats Care will be a model for other campuses and communities around the country."