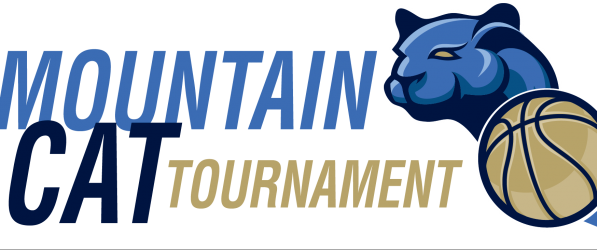 A 42-year tradition at Pitt-Johnstown, the Mountain Cat Basketball Tournament, will showcase the region's high school basketball talent. The event benefits the Pitt-Johnstown Alumni Association and student scholarships.
This year, the two-day tournament features four boys' and two girls' basketball teams from throughout west-central Pennsylvania. Boys' basketball teams participating this year are Windber, Bishop McCort, Shade Central City, and Tussey Mountain. The girls' basketball teams participating are Tussey Mountain and Bishop McCort.
Schedule:
Friday, Dec. 13, 2019 (First Round)
                6:00 p.m.             Tussey Mountain vs. Shade Central City
                7:30 p.m.             Windber vs. Bishop McCort
Saturday, Dec. 14, 2019 (Consolation, Girls' Game, and Championship)
                5:00 p.m.             Consolation Game
                6:30 p.m.             Girls Game: Tussey Mountain vs. Bishop McCort
                8:00 p.m.             Championship Game
Tickets are available at the door, where they can be purchased with cash: $5 for adults and $4 for children as well as students and Alumni Association members who present their ID.
---
The University of Pittsburgh at Johnstown was founded in 1927 and is the first and largest regional campus of the University of Pittsburgh. Pitt-Johnstown is recognized by the Princeton Review as a "Best in the Northeast" college, by G.I. Jobs as a "Military Friendly School," and by Pennsylvania Business Central as a "Top 100 Organization." The distinctive combination of Pitt-Johnstown's people, programs, and place results in exceptional performance in preparing students for career and professional success. Pitt-Johnstown is the regional leader, educating for success in the Real World.