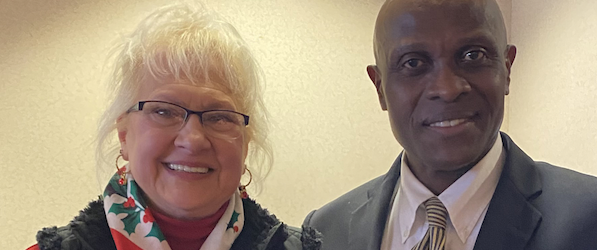 Annual Event Honors Staff Members for Outstanding Community, Campus Service
A member of the University of Pittsburgh at Johnstown staff was honored for outstanding service by Pitt-Johnstown President Dr. Jem Spectar during the staff recognition luncheon held December 19, 2022 at the Living-Learning Center.
Patricia Ankney received the President's Staff Award for Excellence in Service to Pitt-Johnstown. She was among many honored during Pitt-Johnstown's annual event.
"At Pitt-Johnstown, we are truly blessed to have so many loyal and dedicated staff members," said President Spectar. "There is a deep commitment to service, and I am proud and honored to continue the President's Staff Awards for Excellence in Service: a rich legacy created years ago to celebrate the tremendous accomplishments of our valuable staff who continually exhibit an enthusiastic spirt of dedication in their work."
Ms. Ankney, Clinical Coordinator of Health Services, is a dedicated employee with over 25 years of service.   She was honored for her consistently professional and compassionate work, who has gone above and beyond to ensure students' health, welfare and concern are always at the forefront.  When the pandemic interrupted daily work and life, Ms. Ankney assisted students as well as their families, working tirelessly and efficiently and always with care and compassion, to ensure our students were safe.  As one colleague shared, her "commitment and perseverance during this time was unmatched," and another shared that she "stayed current on the never ending regulations of COVID" even when this changed daily, whether she was working remotely or on campus.  When students were able to return to campus and had to be quarantined or isolated, she would ensure those students had meals, that close contacts to the students were notified and appropriate campus offices were notified.  
Other employees who attained recognition for service to campus in 2020, 2021 and 2022 were also honored:
40+ years: Jim Coffman, Joni Hoffman, Andrea Leibfreid, Pat Pecora, Jeff Sernell, Dan Smith, Sharon Wilson,  John Ziats
30 years of service in 2020:  Randy Ramsdorfer
30 years of service in 2021:  Matthew Harr
30 years of service in 2022:  Kim Livingston
20 years of service in 2020:  Jeanine Lawn, Brian Smith, Sharon Sutt
20 years of service in 2021:  Kathleen Clawson, Walter Custer, Herman Gunby, Christian Phillips, Sherri Rae
20 years of service in 2022:  Lori Fresch, Scott Thiel, Todd Williams
10 years of service in 2021: Amy Buxbaum, Sarah Harris
10 years of service in 2022:  Diana Andreyo, Andrea Christina, Kelly Devett, Emily Hoffman, Jackie Ivock, Kathleen Mishler, Brian Moore, Shelley Peruso, Tim Seitz, Susie Shaffer
5 years of service in 2020: Shaquille Jenkins, Nikki Pecora, Maria Stroscio
5 years of service in 2021: Nathan Litko, Michael Podrasky, Julie Showalter, Michael Smith, Gina Thompson, Isaac Tyger, Eleanor Woods
5 years of service in 2022:  Heather Hall, Roxanne Kerr, Jennifer Kohler, Tamy Kokel, Joseph Sanderson