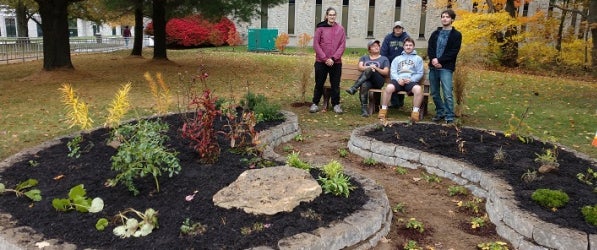 Pitt-Johnstown's Green Team, advised by Christine Dahlin, PhD, installed a pollinator garden on the university's mall in front of the Owen Library/Biddle Hall green space on October 26, 2019. The project was originally scheduled for two days, but the collective effort of the large turnout of volunteers resulted in a one-day completion.
"This is Phase 1; next semester, we will work on acquiring funds for a sign, solitary bee boxes, stepping stones, bat boxes, and more," said Dr. Dahlin.
"I want to congratulate the students who led this initiative: Samantha Felix, Hayley McEvoy, Destiny Lehmen, and Rachel Heming."
The project was supported through the Alice Waters Thomas Fund of The Community Foundation for the Alleghenies, and made possible by collaborative efforts of students, faculty and staff, the Green Team, the Audubon Cooperative Sanctuary Program, and Pitt-Johnstown graduate Natalie Martin.
"Natalie contributed extensively to the planning and design, and donated approximately half of the plants," noted Dr. Dahlin.
Pitt-Johnstown Director of Facilities Management Walt Kalista and Supervisor of Campus Grounds Dave Finney, along with several staffers, provided project support.
The leftover bags of fine mulch were donated to Greater Johnstown Elementary School's pollinator garden project, which is being built through the Girl Scouts of America.
The Pitt-Johnstown Green Team consists of students, faculty and staff wanting to make the campus a more environmentally friendly and sustainable place. The team is interested in making the goals of the Audubon Cooperative Sustainability Program a reality on campus.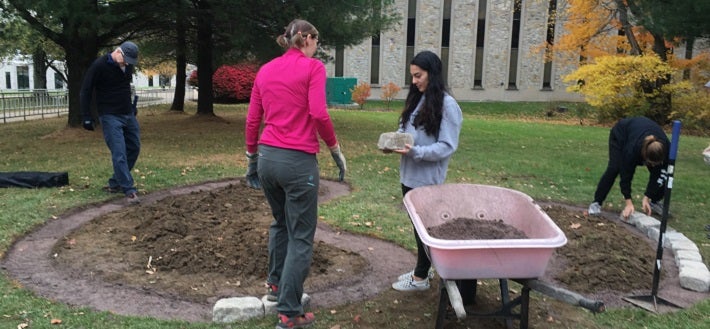 Green Team at work on the pollinator garden
---
The University of Pittsburgh at Johnstown, founded in 1927, is the first and largest regional campus of the University of Pittsburgh. Pitt-Johnstown is recognized by the Princeton Review as a "Best in the Northeast" college, by G.I. Jobs as a "Military Friendly School," and by Pennsylvania Business Central as a "Top 100 Organization." The distinctive combination of Pitt-Johnstown's people, programs, and place results in exceptional performance in preparing students for career and professional success. Pitt-Johnstown is the regional leader, educating for success in the Real World.