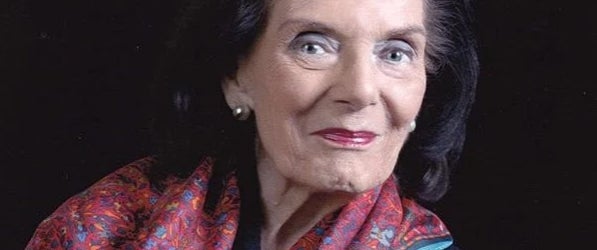 The Pitt-Johnstown community commemorates the remarkable life of Frances Hesselbein following her passing on December 11th at the age of 107. For over a century, Hesselbein lived by her guiding motto, "to serve is to live."

Born on November 1, 1915, in South Fork, PA, Hesselbein attended school at the University of Pittsburgh at Johnstown "Asphalt Campus" within the City of Johnstown at just 17 years old. After the loss of her father, she was forced to leave school and begin working full-time. 

In the late 1930s, she married her husband John Hesselbein, also a Johnstown native, and they had a son. While raising her son and operating a business with her husband, Hesselbein made a short-term commitment to lead a local Girl Scout Troop in the Johnstown area. She held the position for 8 years and continued growing upward through the organization to eventually become the national Chief Executive of the Girl Scouts in 1976.

During her years with the Girl Scouts, Frances Hesselbein created the "Tradition With a Future" model where the organization embraced inclusivity and diversity, but never put down or insulted the past. During her time, the organization evolved to be a place where all girls could push outside the boundaries and not conform to social norms.

Throughout her journey, Hesselbein was recognized for her leadership and service. In 1998, she received the Presidential Medal of Freedom from President Bill Clinton. Then, she received an honorary doctoral degree from the University of Pittsburgh in 2001, and a University medallion as a distinguished alumna and induction into the inaugural group of preeminent alumni called Legacy Laureates. And, in 2015, she was ranked 37th by Fortune Magazine in its list of the world's 50 greatest leaders. 

Today, Hesselbein's legacy continues to give back to the University she credited with launching her on the path to leadership through the Frances Hesselbein Leadership Forum at the University of Pittsburgh. Once when asked about her support of the University, Frances Hesselbein said, "I love being part of the Pitt community. I know that our future is bright when we invest and support our student leaders. And our students are remarkable!"