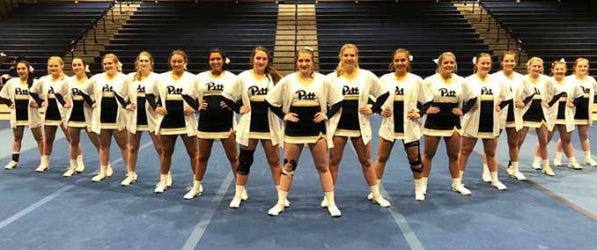 Pitt-Johnstown's cheerleaders placed fourth in the nation at the National Cheerleading Association (NCA) College Nationals in Daytona, Fla., April 4-6, 2019. The final ranking was the highest ever achieved by a Pitt-Johnstown squad.
"These ladies put team before me and they have shown everything that I want in a team. Win or lose, we would put this team on the mat every time to represent the university," said coach Kristi Clifford.
Competing in the All-Girl D2 Intermediate Division, the squad comprised of numerous freshmen and no seniors performed an almost flawless routine on Day 1, according to coach Suzanne McIntosh.
"In this sport, you only get one chance and two minutes and 15 seconds," said McIntosh.  "We are so proud of how the team represented the university. This was an amazing feat, considering the time this team had together."
She added they are eager to get back in the gym and start their journey toward Nationals in 2020.
"This team faced much adversity this year, but we came together in the end and became more of a family, not just a team," said Lady Cat Cheerleading President Emily Kaczmarek. "I couldn't be more proud of how much this team has accomplished."
Coaches are Clifford, McIntosh, Sarah Giger, and Kayla Stockdale.
Squad members are:
Emily Kaczmarek – Penn Hills, PA
Tessa Fry – Armagh, PA
Danielle DuBrosky – Pittsburgh, PA
Sam Przywara – Pittsburgh, PA
Sammie Thomas – Murrysville, PA
Lexi Weber – Charleroi, PA
Sara Anderson – Clarksburg, PA
Kailee Patterson – Lewisberry, PA
Destiny Lehman – Harrisburg, PA
Haylea Ober – Johnstown, PA
Amaiah Ellis – Johnstown, PA
Amber Botteicher – Johnstown, PA
Kavay Barron – Johnstown, PA
Abrielle Furfari – Johnstown, PA
Emily Becker – Johnstown, PA
Paige Mooney – Pittsburgh, PA
Hailey Stall – Greensburg, PA
The University of Pittsburgh at Johnstown was founded in 1927 and is the first and largest regional campus of the University of Pittsburgh. Pitt-Johnstown is recognized by the Princeton Review as a "Best in the Northeast" college, by G.I. Jobs as a "Military Friendly School," and by Pennsylvania Business Central as a "Top 100 Organization." The distinctive combination of Pitt-Johnstown's people, programs, and place results in exceptional performance in preparing students for career and professional success. Pitt-Johnstown is the regional leader, educating for success in the Real World.