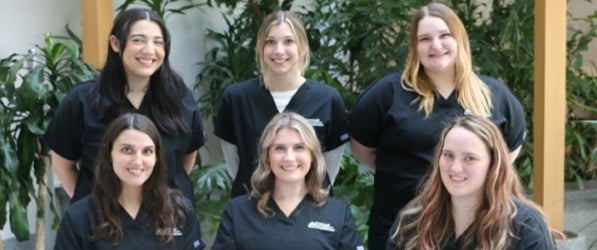 Conemaugh's Program for Surgical Technology Observes Graduation and Achieves 100% Certification

First row seated left to right; Kalie Lysic, Lauren Todaro, Megan Dumm
Second row standing left to right; Salma Porter, Myranda Lenhart, Mackenzie Collins
Six graduates completed the Program for Surgical Technology on August 5th. A luncheon was held at Sunnehanna Country Club to celebrate the fifty-ninth graduation. The graduates are Mackenzie Collins (Confluence), Megan Dumm (Northern Cambria), Myranda Lenhart (Coalport), Kalie Lysic, (Jerome), Salma Porter (Jefferson Hills) and Lauren Todaro (Mount Union). All graduates also passed the national certification exam and may use the title Certified Surgical Technologist. All students are also enrolled at Pitt Johnstown and are eligible for Associate of Science Degrees.
Four students received certificates for scholarships awarded in May by the 1889 Foundation. They are Kalie Lysic, Myranda Lenhart, Megan Dumm and Mackenzie Collins. The awards are based on didactic and clinical proficiency. The clinical practice component (over 1,035 hours) of the Program is provided in the 19 operating rooms at CMMC, the new Conemaugh East Hills Outpatient Center and includes one-week elective rotations at neighboring facilities.  The ORs at Conemaugh, offer surgical services in many specialties such as Robotic Assisted Surgery, Open Heart Surgery, Minimally Invasive Surgery and include Hybrid Vascular Surgery Suites.  
Conemaugh Memorial Medical Center (CMMC) and many hospitals throughout the country have a critical need for Certified Surgical Technologists. The Conemaugh Program began in 1966 and was one of the first accredited Programs in the country. It the first Program in the State of PA to earn accreditation. An Associate Degree at minimum, will be required for entrance into the field of practice in the future (unless the applicant holds an acceptable Associate Degree in another field and completes an accredited Program, which is permitted until August 1, 2024). Conemaugh and the University of Pittsburgh at Johnstown have collaborated to offer both a Certificate in Surgical Technology and the Associate and or Bachelor of Science Degree since 1998.
The Certified Surgical Technologist (CST) works with the surgeon, OR Nurse and other personnel to achieve excellence in the performance of surgical procedures. This may include obtaining, sterilizing and handing surgical instruments to the surgeon, first assisting or assisting the circulator. CSTs also work in many other hospital departments such as the Dept. of Emergency Medicine, GI Lab, Anesthesia, Ambulatory Surgery, Cardiac Cath Lab, Post Anesthesia Care, Labor and Delivery, etc.  
Confidence, agility and stamina are qualities that are important for a CST. The CST must maintain a calm manner. Resources to learn more about the field are www.ast.org, www.conemaugh.org (look under education and then School of Surgical Technology), www.Johnstown.pitt.edu/academics/majors-programs/nursing-and-health-sciences/allied-health-programs/surgical-technology
Completion Requirements
59 credits for CMMC's Certificate in Surgical Technology (if applicant already holds an acceptable Associate Degree until August 1, 2024).
74 credits required for Associate Degree in Science and a Certificate in Surgical Technology.
Courses taken at a college or university are evaluated for transfer on an individual basis.  College courses may be scheduled part-time.  The clinical component is a full-time commitment.
Curriculum Strengths
Excellent reputation
Level I Regional Resource Trauma Center Teaching Hospital
19 ORs that offer many surgical specialties
Conemaugh East Hills Outpatient Center
Strong clinical component of over 1,035 hours
Small student/faculty ratios
Highly qualified and credentialed faculty
High success rate on certification exam
Transferable college credits
Career opportunities both in the area and nationally
The University of Pittsburgh at Johnstown/Conemaugh Memorial Medical Center's Program was ranked first in the State of PA and third in the country in 2020 per universities.com. The Program has enjoyed an excellent pass rate on the National Certification Exam with 14 of the last 15 classes achieving a 100% pass rates on the first attempt. This has contributed to annual Certificates of Merit as well as the Certificate of Excellence from the National Board of Surgical Technology and Surgical Assisting (NBSTSA). Graduates find many employment opportunities after graduation. Recent classes have easily obtained one hundred percent employment.
Pennsylvania has recently passed legislation requiring all surgical technologists to graduate from accredited Programs such as the Conemaugh Program and be certified. This requirement also makes it very important for applicants to choose schools with high levels of certification pass rates. 
Contact Program Staff and Faculty– Dawn Lookhart, Allied Health Secretary at 814-534-9771, Patty Pavlikowski RN CST MA CNOR, Program Director (ppavlik@conemaugh.org). John Hoffman CST AS, Program Instructor (jhoffman@conemaugh.org), at 814-534-3275 or Kurtis Pierce, EdD, MBA, RRT (kpierce@pitt.edu) at 814-269-2960.