Whether by day or by night, the Johnstown mural is a site to behold. It is located on the Route 56 ramp near Somerset Street near the first campus, and is the work of master artist Stacie Krupa. It was part of Pitt-Johnstown's 90th anniversary.
The University of Pittsburgh at Johnstown's 90th anniversary in 2017 included lasting link to its downtown Johnstown origin – a mural project.
A 178-foot wall mural on the side of a Route 56 ramp near Somerset Street is visible from the site of the first campus and illuminated by lighting donated by Conemaugh Duke LifePoint.
Johnstown native and master artist Stacie Krupa led the effort.
The project was unveiled at a 90th anniversary kick-off event on September 22, 2017, at the John P. Murtha Cancer Center on Somerset Street, the site of the 1927 Johnstown "Junior Campus." 
"This grand mural will celebrate the history and the story of Johnstown and the university," said Pitt-Johnstown President Dr. Jem Spectar. "It is a great story and this mural will capture it.
"We see ourselves as Johnstown's university. The university started near this location. Our story and our success is tied to the city. When the city succeeds, we succeed."
Pitt-Johnstown celebrated the 90th anniversary of its founding in 1927. The university also marked the 50th year anniversary of its move to the current Richland Township campus and the 10th anniversary of Dr. Spectar's distinctive leadership as university president.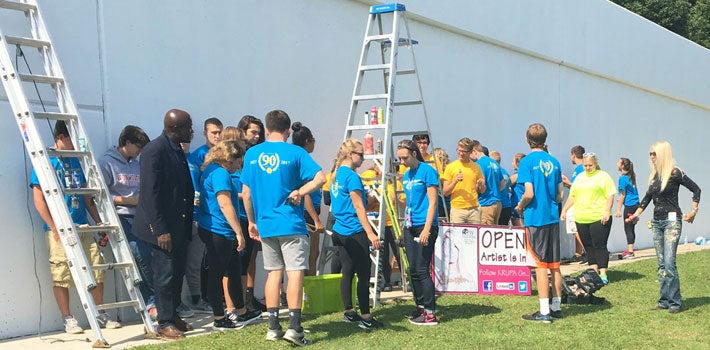 Artist Stacie Krupa, right, instructs Pitt-Johnstown student volunteers on the strategy  for the mural during the project's launch on August 26, 2017.