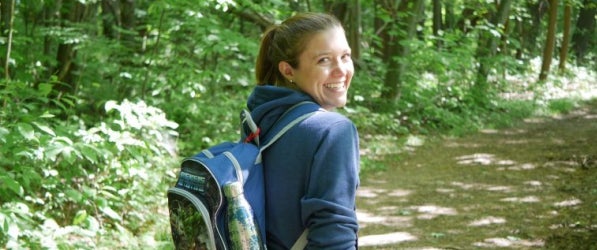 Pitt-Johnstown assistant professor of biology Jill Henning, PhD, who has conducted extensive research on the risk of Lyme disease in western Pennsylvania, discussed her findings in an interview with The Allegheny Front's Kara Holsopple of NPR.
Dr. Henning's advice is to treat clothing before hiking and to "walk in the center of the trail. Ticks like to attach themselves to long grasses, or in the brushy areas," she said.
"Yes, ticks are a problem, but I don't think you should let that bother you to the point where you don't go outside," she said. "There are lots of things that you can do to prevent getting Lyme disease, and even if you do get bitten by a tick, you can easily treat yourself by seeing your primary care physician."
The illness can cause flu-like symptoms and a rash in its early stages, and if left untreated, more serious health issues like arthritis and nervous system disorders.
Lyme disease is a bacterial infection transmitted by the bite of a tick. Pennsylvania ranks first in reported cases of Lyme disease in the United States for eight consecutive years. According to the Centers for Disease Control and Prevention, that is one-third of all cases nationally. 
The number of Lyme disease cases in Pennsylvania topped 10,000 in 2018, which is more than in any other state. 
Dr. Henning's report, Effective Techniques in the Definitive Diagnosis of Lyme Disease, was published in the SciMedCentral JSM Tropical Report.
The University of Pittsburgh at Johnstown was founded in 1927 and is the first and largest regional campus of the University of Pittsburgh. Pitt-Johnstown is recognized by the Princeton Review as a "Best in the Northeast" college, by G.I. Jobs as a "Military Friendly School," and by Pennsylvania Business Central as a "Top 100 Organization." The distinctive combination of Pitt-Johnstown's people, programs, and place results in exceptional performance in preparing students for career and professional success. Pitt-Johnstown is the regional leader, educating for success in the Real World.