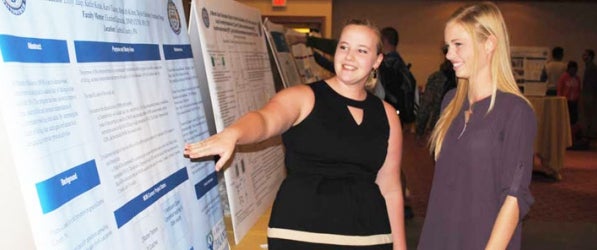 Pitt-Johnstown's annual Fall Into Research symposium celebrates the work of faculty, students and collaborators.
This year's event is Wednesday, October 2, from 5-7 p.m., in the Cambria Room of the Student Union.
Fall Into Research showcases numerous projects and presentations. It is an opportunity to learn about research and scholarship opportunities. Posters or other visuals are displayed while faculty and students are available to discuss their work.
"The Fall into Research symposium is a way for faculty at Pitt-Johnstown to present the work they do, both with and without students," said Jill D. Henning, PhD, Associate Professor of Biology and Undergraduate Research Coordinator. "We will have posters on books that have been written as well as laboratory research.  It is a night for our faculty to shine."
Innovative research topics, including:
Pitt-Johnstown and Chan Soon-Shiong Medical Center at Windber (formerly Windber Research Institute) student-research partnership
Research Experiences for Undergraduates (REU), Undergraduate Research Program (URP), and summer student-research internship recipients
Research funding recipients, including the Alice Waters Thomas Endowment, College Research Council Grant, Faculty Resource Center Grant, President's Mentorship Fund, and the Sabbatical Grant.
---
The University of Pittsburgh at Johnstown was founded in 1927 and is the first and largest regional campus of the University of Pittsburgh. Pitt-Johnstown is recognized by the Princeton Review as a "Best in the Northeast" college, by G.I. Jobs as a "Military Friendly School," and by Pennsylvania Business Central as a "Top 100 Organization." The distinctive combination of Pitt-Johnstown's people, programs, and place results in exceptional performance in preparing students for career and professional success. Pitt-Johnstown is the regional leader, educating for success in the Real World.