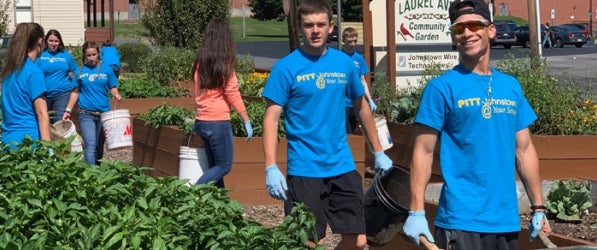 Pitt-Johnstown's Class of 2023 upheld a university new-student tradition of serving the Greater Johnstown community on Saturday, August 24, 2019.
The class of nearly 600 new students and several university staff volunteers worked for several hourspicking up trash, mowing the lawn and while providing other services to local businesses. The students, along with members of the Johnstown Redevelopment Authority and Discover Johnstown, cleaned various downtown locations, specifically the Laurel Avenue Community Garden.
By doing so, the class upheld a challenge issued by President Jem Spectar during the previous day's Class of 2023 Convocation, when he implored the class to use all of their knowledge and resources to "do something!" The students embraced his mantra as motivation for their service project the next morning, using their talents and skills to help make downtown Johnstown a cleaner and more livable space for the community. Social media coverage of this effort was indicated by the hashtag: #wedidsomething.
New Student Orientation focused on three objectives: 
prepare students for the academic rigor of the university;
provide a knowledge of campus and the Greater Johnstown/Cambria County community;
and create a sense of belonging within the student body.
Volunteering is a major component in the overall shaping of a Pitt-Johnstown student.
Returning residential students arrived Sunday, August 25.
Fall term 2019 classes began Monday, August 26.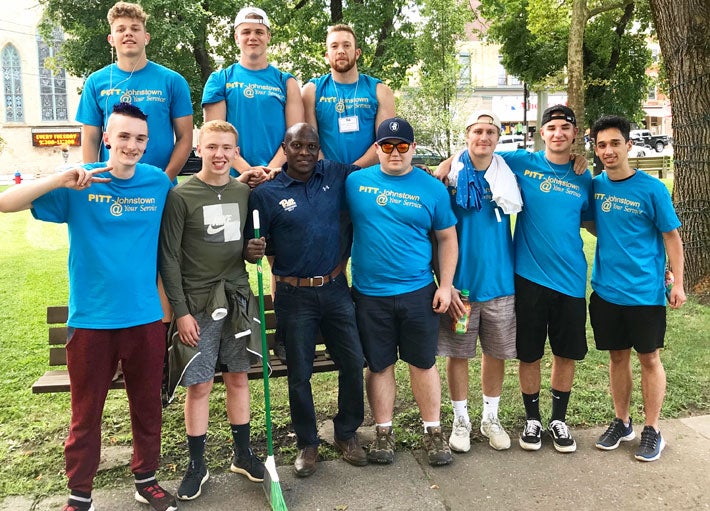 Joining Dr. Spectar are:  Jacob Anderson, Julian Paredes-Gaviria, Landon Banks, Ethan Chirdon, Colten Connor, Grant Harkleroad, James Patterson, Adam "Brita" Tornabene, and Mason "Chonk" Bussard.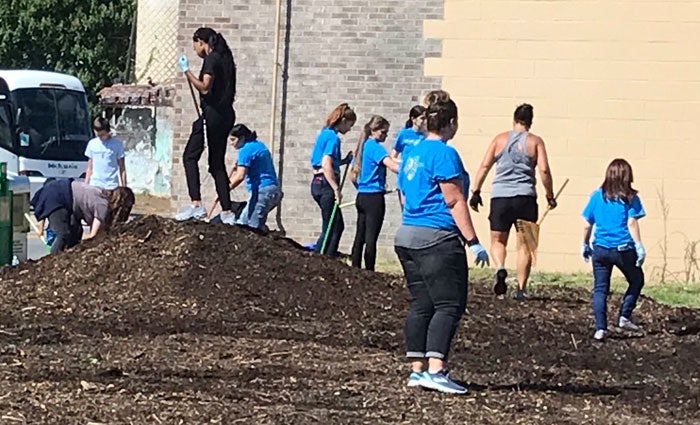 ---
The University of Pittsburgh at Johnstown was founded in 1927 and is the first and largest regional campus of the University of Pittsburgh. Pitt-Johnstown is recognized by the Princeton Review as a "Best in the Northeast" college, by G.I. Jobs as a "Military Friendly School," and by Pennsylvania Business Central as a "Top 100 Organization." The distinctive combination of Pitt-Johnstown's people, programs, and place results in exceptional performance in preparing students for career and professional success. Pitt-Johnstown is the regional leader, educating for success in the Real World