Pitt-Johnstown graduate Gene Berkebile '94 has been recognized as a CFO of the Year by the Pittsburgh Business Times in the publication's November 2019 issue.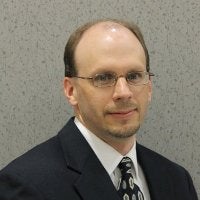 He is Vice President and Chief Financial Officer for the National Center for Defense Manufacturing and Machining.
The government contracting company has grown exponentially in the past decade. Berkebile joined NCDMM in 2007 and developed and instituted comprehensive strategies that contributed to the company's overall improvement.
In a question-and-answer with the Business Times, Berkebile noted the best part about being a CFO with NCDMM is, "the ability to be exposed to and to work on so many different things. As a small company, we all have to pitch in on things that you wouldn't be part of if you were in a large company, and that gives valuable experiences to everyone."
Berkebile received a bachelor's degree in business economics with a concentration in finance from Pitt-Johnstown, an MBA from Saint Francis University, and a master's certificate in government contracting from George Washington University.
Prior to joining NCDMM, he served as financial systems administrator at Johnstown-based Concurrent Technologies Corp., where he was responsible for implementing a new comprehensive budgeting system that was used to forecast costs, direct labor coverage and future revenue.
---
The University of Pittsburgh at Johnstown, founded in 1927, is the first and largest regional campus of the University of Pittsburgh. Pitt-Johnstown is recognized by the Princeton Review as a "Best in the Northeast" college, by G.I. Jobs as a "Military Friendly School," and by Pennsylvania Business Central as a "Top 100 Organization." The distinctive combination of Pitt-Johnstown's people, programs, and place results in exceptional performance in preparing students for career and professional success. Pitt-Johnstown is the regional leader, educating for success in the Real World.