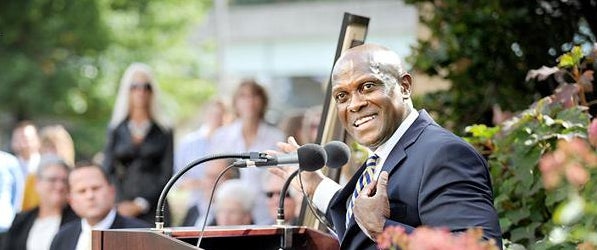 In a few short years, the University of Pittsburgh at Johnstown will celebrate a major milestone – 100 years of providing excellence in education and preparing students for professional success in the Greater Johnstown region and beyond.
Our long-standing and successful history of partnering with local leaders and businesses to build a healthy economy, transform the local landscape and seed our region with a talented workforce has strengthened our campus and community and made us Johnstown Strong!
Since our founding in 1927, the partnership between the Johnstown community and the university has enabled Pitt-Johnstown to become a vital knowledge center and an anchor institution in western Pennsylvania, contributing to the economic, social and cultural development of the region.
As a leading employer in our region, we are proud to stand among the other great organizations in our area that are investing in our communities and improving our quality of life.
Our economic impact reaches well beyond our region. In addition to providing nearly 500 living-wage jobs to residents spanning a three-county area, the campus contributes approximately $133 million each year to the state coffers.
Our most significant investment, however, can be seen in the 2,200 students we prepare each year for careers, many in our own backyard, and our 22,000 alumni who are making a difference in our community and around the world.
For example, Pitt-Johnstown's leading-edge engineering program has become a talent funnel for many local businesses, including HF Lenz, CJL Engineering and Concurrent Technologies Corp., to name a few, who value the quality of education and practical experience our mechanical, electrical, civil, chemical, and computer science engineers take with them.
Our world-class nursing and health program, which boasts a 100% pass rate on the rigorous National Council Licensure Examination (NCLEX), produces talented professionals who are providing critical health care at Conemaugh Health System, Chan Soon-Shiong Medical Center at Windber, UPMC Somerset and beyond.
Our education graduates can be found leading K-12 classrooms, supporting special education needs, and innovating STEM curriculums in area schools such as Forest Hills, Richland, Somerset, and across the state.
We thank these and countless other employers in our area who bring value to their businesses by hiring our Pitt-Johnstown graduates.
Pitt-Johnstown's high-quality education and campus are among the many reasons we are Mountain Cat Proud.
But we are not just educating. We are contributing to the quality of life and programs that improve our Greater Johnstown community.
As state Sen. Wayne Langerholc said at Pitt-Johnstown's groundbreaking for the transformational REACHland (Recreational opportunities, Environmental sustainability, Academics, Commercial District and Healthy Living) Connect community sidewalk project: "REACHland is a marquis project for how to improve the quality of life for all citizens. This is a great day for the community."
Pitt-Johnstown also pioneered an innovative project to address critical 21st-century workforce capacity issues.
Working with local leaders and schools, we launched an ambitious coding and digital literacy initiative as a call to action to help transform the knowledge base of the future. The program, called CODE (Computational learning Opportunities in a Digital Environment), introduces K-12 learners to coding and to use coding skills to improve critical thinking and problem-solving.
Thousands of area students have benefited from this bold and ambitious community outreach program.
Another point of pride for Pitt-Johnstown and an asset for our community is our "I-Rise" Tutor & Mentor Program, a groundbreaking educational partnership to provide academic support, mentoring, and our signature CODE instruction for students in the Greater Johnstown community.
Recognizing the importance of early interventions to children's success, the "I-Rise" program builds upon the great contributions of the Flood City Youth Fitness Academy to help students with math, reading and writing.
Pitt-Johnstown is proud of our role in the community and the positive impact we continue to make.
Our efforts have not gone unnoticed.
U.S. News & World Report 2021 ranked Pitt-Johnstown No. 31 in Regional Colleges Northeast. Princeton Review, for the 16th consecutive year, recognized us as a "Best in the Northeast College."
Brookings Institution cited Pitt-Johnstown as a college that increases a student's lifetime earnings, and we were designated a "Military Friendly School" by GI Jobs for the 12th year in a row.
Unfortunately, due to varying factors in Harrisburg, the University of Pittsburgh's state funding could be in jeopardy.
Our accomplishments and impact on the community are also in jeopardy if the funding we have historically received is cut.
The university uses the annual appropriation to provide nearly $160 million in tuition discounts for Pennsylvania students.
Without this critically needed funding, many of the students who help make Pitt-Johnstown such a strong community asset might not have the opportunity to come here – a scenario that would be devastating not only for our students but also for the Johnstown area.
We are extremely grateful for our local legislators, including Langerholc, state Rep. Jim Rigby and state Rep. Frank Burns, who understand and value the contribution Pitt-Johnstown has been making to our community for nearly a century.
We thank our lawmakers for their commitment to Pitt, and we stand ready and willing to work with them for the shared goals of the community.
We also thank local leaders and community members for supporting us and investing in our communities.
We hope that you would be moved and inspired by what we are building together and share your Pitt-Johnstown pride with other members of the legislature who serve constituents in the region.
In the words of Cambria County President Commissioner Thomas Chernisky: "When we work together – the university, community and government – we can achieve anything."
Working together, we will remain Johnstown Strong!
Photo by John Rucosky
jrucosky@tribdem.com
To read the original article click here>>