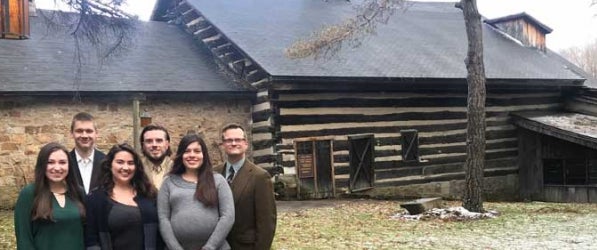 Eleven University of Pittsburgh at Johnstown students have spent a year working on two projects with Professor of History Paul Douglas Newman, PhD, for the Mountain Playhouse in Jennerstown.
Eighty Years at the Mountain Playhouse: Summer Stock Lives! is a 100-page book, illustrated with 160 images.
"The Show Goes On!: 80 Seasons and Counting at Jennerstown's Mountain Playhouse" is a 15-minute historical documentary film with over one-hundred still and moving images and several interviews.
Both works chronicle the history of the Mountain Playhouse – located in Jennerstown, Somerset County – and the phenomenon of Summer Stock theater.
The book project began in May 2018. Student researchers Yami Audisio (history), Laken Burkhardt (theatre arts), Josh Calandrella (writing), and Erin Whyte (theatre arts and communication) spent hours digitizing playbills, scrapbook images, and photo albums at the Mountain Playhouse, while Cameron Carr (history) performed archival research at the Somerset Historical Center.
In fall 2018, Jonathan Van Dermark (history and geography) joined the project and researched the theater founder's private archives. Kelsey Chabal (writing and theatre arts) was added at that time as editor and writer.
The book has finished final production by the publisher, the Somerset Daily American, and will be available for purchase in June 2019. The students and Dr. Newman will hold a book launch and signing party on opening night of the Mountain Playhouse on Wednesday, June 18.
The film project arose from Dr. Newman's fall 2018 class "Historical Documentary Film and Filmmaking." Students Norm Ballard (business), Ryan Olsavsky (engineering), Cole Seaman (history), Jonathan Van Dermark (history and geography – also part of book project), and Hastings Wagamon (history and theatre arts) used the materials digitized by the book team to research, write, storyboard, and edit their documentary.
They also conducted hours of interviews with theater staff, expert historians, actors, and directors. Their film will premiere at the Mountain Playhouse's 2019 opening night, June 18, when students will sign and distribute DVD copies of their film to purchasers of the Mountain Playhouse book. The film will be available on the Mountain Playhouse website and during the 2019 season, it will play on a loop in the theater lobby for patrons to watch before shows and at intermission.
The Mountain Playhouse is an 80-year-old theater. James B. Stoughton constructed it in 1938 from pieces of a log building that had been built as a gristmill to make flour in 1805. It has offered seasonal entertainment, resident Summer Stock plays and musicals, for eighty seasons. Summer Stock referred to small theater companies, who owned their own stock of costumes and set materials. They provided residence for actors, directors, and crew to live during summer performances in rural locations out of the heat of the cities.
At its height, there were more than 150 Summer Stock theaters in the northeast United States. Today, only eight remain. The book and  film both tell a story of innovation, entrepreneurship, and survival.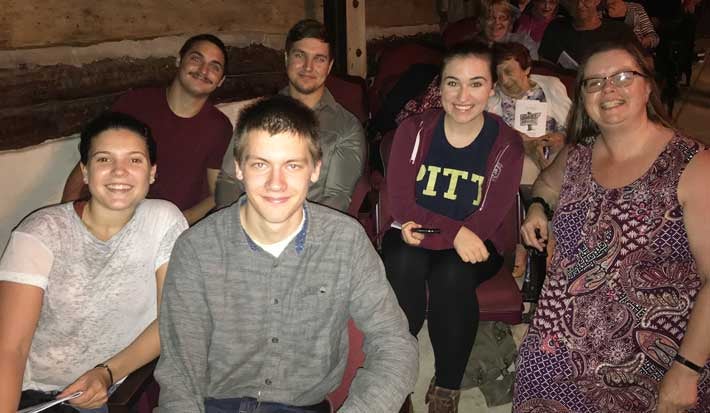 Documentary Team Front row, from left: Hastings Wagamon, Jonathan VanDermark, and kneeling Producer and theater founder's daughter, Teresa Stoughton Marafino; back row: Cole Seaman, Ryan Olsavsky (and from the book team Erin Whyte). Not pictured: Norm Ballard. Photo taken inside the Mountain Playhouse during intermission at a performance.
---
The University of Pittsburgh at Johnstown was founded in 1927 and is the first and largest regional campus of the University of Pittsburgh. Pitt-Johnstown is recognized by the Princeton Review as a "Best in the Northeast" college, by G.I. Jobs as a "Military Friendly School," and by Pennsylvania Business Central as a "Top 100 Organization." The distinctive combination of Pitt-Johnstown's people, programs, and place results in exceptional performance in preparing students for career and professional success. Pitt-Johnstown is the regional leader, educating for success in the Real World.