Pitt-Johnstown students Maura McGrath, Yanchen Liu, and Grant Kristo, along with 15 other Pitt students, took part in the Literature and Writing in Paris study abroad offering in summer 2018.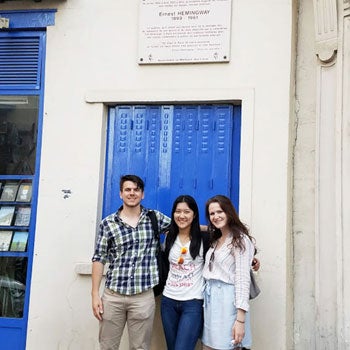 Led by Pitt-Johnstown French language faculty David Petrosky, PhD, and Barbara Petrosky, PhD, the program explored many influences of French literature from the Middle Ages to the 20th century.
Students studied the intricate links between literature and the arts through discussions about famous American writers such as Ernest Hemingway, F. Scott Fitzgerald and Gertrude Stein — known as the Lost Generation — who lived in Paris in the 1920s.
Participants in this four-week program during May lived and studied in Paris and learned about Parisian culture, history, and literature through discussions of literary texts, essays, letters, and select movies. 
Students took two literature courses in the morning in an American school situated in the Marais district. In the afternoon, they explored the cultural diversity of Paris with guided tours, including visits to the Musée d'Orsay, the Louvre, the Musée d'Art Moderne, the Musée de la Mode, the Jardins de Bagatelle, and the Medieval district of Le Marais.
Their final projects were on the relationships between art and literature, and their experience as expatriates in Paris.
To quote Hemingway: "If you are lucky enough to have lived in Paris ... then wherever you go the rest of your life, it stays with you, for Paris is a moveable feast."
The University of Pittsburgh at Johnstown was founded in 1927 and is the first and largest regional campus of the University of Pittsburgh. Pitt-Johnstown is recognized by the Princeton Review as a "Best in the Northeast" college, by G.I. Jobs as a "Military Friendly School," and by Pennsylvania Business Central as a "Top 100 Organization." The distinctive combination of Pitt-Johnstown's people, programs, and place results in exceptional performance in preparing students for career and professional success. Pitt-Johnstown is the regional leader, educating for success in the Real World.