The University of Pittsburgh at Johnstown has been designated a Military Friendly School® by Viqtory Media, the premier source for military personnel transitioning into civilian life.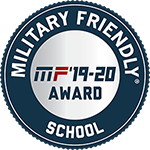 The 2019-20 Military Friendly School® list honors colleges, universities, and trade schools in the country that are doing the most to embrace military students, and to dedicate resources to ensure their success in the classroom and after graduation.
Pitt-Johnstown has received the designation in each of the 10 years that Military Friendly School® has published the listings.
Pitt-Johnstown President Jem Spectar said: "To be recognized with this prestigious honor for the tenth year is a tremendous source of pride for the Pitt-Johnstown community. We are very grateful for the service of our military veterans and are strongly committed to their success as they transition from their military careers to the classroom, to good jobs in our community, and beyond."
Institutions earning the Military Friendly School® designation were evaluated using both public data sources and responses from a proprietary survey completed by the school. This year, 766 schools earned this prestigious designation.
The 2019-2020 Military Friendly® Schools list will be published in the May issue of G.I. Jobs magazine and can be found at www.militaryfriendly.com.
Methodology, criteria, and weightings were determined by Viqtory Media with input from the Military Friendly® ​Advisory Council of independent leaders in the higher education and military recruitment community. Final ratings were determined by combining the institution's survey scores with the assessment of the institution's ability to meet thresholds for Student Retention, Graduation, Job Placement, Loan Repayment, Persistence (Degree Advancement or Transfer) and Loan Default rates for all students and, specifically, for student veterans.
Viqtory Media's Chief Product Officer Daniel Nichols stated, "Our ability to apply a clear, consistent standard to colleges creates a competitive atmosphere that encourages colleges to invest in programs to provide educational outcomes that are better for veterans."
Through its signature MountainCat Veterans Program (MVP), Pitt-Johnstown recognizes the service performed by United States military veterans, and assists them in making a successful transition into the student population. This program represents Pitt-Johnstown's deep commitment to serving current and former members of the United States Armed Forces who served on active duty.
The MVP offers accelerated admission review, priority registration, flexible tuition payment options, credit evaluation, and designated points-of-contact in key administrative and student services departments. Special networking opportunities and workshops are also held for veterans throughout the academic year. Additionally, each year President Spectar hosts a Veterans Day tribute recognizing faculty, staff, students, and Advisory Board members who have served in the US military.
On Veterans Day 2011, Pitt-Johnstown unveiled The Heroes Memorial, a first-of-its-kind memorial honoring the military men and women whose lives were lost in Afghanistan and Iraq. At the center of The Heroes Memorial is a 3,500 pound steel I-beam from the World Trade Center surrounded by the names of the more than 3,000 victims of September 11, 2001, as well as the names and ages of military personnel killed in Afghanistan and Iraq, which are updated annually.
The Memorial lists the names of more than 9,500 men and women, the majority of whom were college-age citizens, and also pays tribute to the more than 46,000 members of the military who have been wounded in action in Afghanistan and Iraq. The Heroes Memorial continues to draw visitors from throughout the United States who are moved and inspired by the tribute that the University has made to these fallen heroes.
---
The University of Pittsburgh at Johnstown was founded in 1927 and is the first and largest regional campus of the University of Pittsburgh. Pitt-Johnstown is recognized by the Princeton Review as a "Best in the Northeast" college, by G.I. Jobs as a "Military Friendly School," and by Pennsylvania Business Central as a "Top 100 Organization." The distinctive combination of Pitt-Johnstown's people, programs, and place results in exceptional performance in preparing students for career and professional success. Pitt-Johnstown is the regional leader, educating for success in the Real World.
About Military Friendly® Schools
The Military Friendly ® Schools list is created each year based on extensive research using public data sources for more than 8,800 schools nationwide, input from student veterans, and responses to the proprietary, data-driven Military Friendly® Schools survey from participating institutions. The survey questions, methodology, criteria and weighting were developed with the assistance of an independent research firm and an advisory council of educators and employers. The survey is administered for free and is open to all postsecondary schools that wish to participate. Criteria for consideration can be found at www.militaryfriendly.com.
About Viqtory Media
Based in Pittsburgh, Viqtory Media is a service-disabled, veteran-owned small business that connects classrooms to careers for the nation's next generation of professionals. Our data-driven ratings are published in G.I. Jobs®, Military Spouse, Vetrepreneur® and STEM JobsSM media, and featured in national media including USA Today, Wall Street Journal, FORTUNE, Bloomberg, NBC, ABC, CBS, CNN, CNBC, Fox News and others. Learn more about our Media, Training and Ratings solutions at victorymedia.com, and follow them on LinkedIn, Facebook, Twitter, and YouTube.