The 23rd annual Great Americans Day event at Pitt-Johnstown will feature Amelia Earhart in a first-person portrayal by Ann Birney, PhD.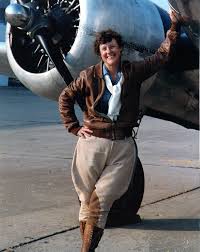 The Great Americans Day tribute will be held Tuesday, November 12, 2019, 11 a.m.-1 p.m., in the Living-Learning Center, Pitt-Johnstown Campus. 
Pitt-Johnstown's annual Great Americans Day Citizenship Forum has celebrated the lives of a wide range of citizens, from Presidents and First Ladies to authors and professional athletes, since 1988. Pieces of their lives provide models of civic virtue — the sacrifice of self-interest for the public good — that the founders intended to be the glue of our Republic.
Amelia Earhart is best known as the first female (and second person) to fly solo across the Atlantic Ocean. She was the most famous woman of her time, and a daring pilot whose aviation firsts made her a media idol and a symbol of what women could accomplish.
Dr. Ann Birney, an independent scholar of American Studies, will perform as Amelia Earhart, based on her 20-plus years of extensive research and study. She holds a doctorate in American Studies from the University of Kansas and, like Earhart, is a native Kansan. In March of 2000, she became the first person to present a historical performance for the Smithsonian's National Air and Space Museum, whose education curator described her performance as "what living history should be—accurate, natural, evocative, and accessible."
This series intends to promote the American ideal of civic virtue central to citizenship and to remind us that the continued success of our society depends upon both individual and collective contributions. Prior programs focused on the lives of Abraham Lincoln, Alexander Hamilton, Eleanor Roosevelt, and Will Rogers among many.
The program is presented by Pitt-Johnstown's History Department, the Phi Alpha Theta International History Honor Society, and Sodexo USA.
The event is sponsored by the Howard M. and Adelle C. Picking Great Americans Day Forum Fund.
---
The University of Pittsburgh at Johnstown, founded in 1927, is the first and largest regional campus of the University of Pittsburgh. Pitt-Johnstown is recognized by the Princeton Review as a "Best in the Northeast" college, by G.I. Jobs as a "Military Friendly School," and by Pennsylvania Business Central as a "Top 100 Organization." The distinctive combination of Pitt-Johnstown's people, programs, and place results in exceptional performance in preparing students for career and professional success. Pitt-Johnstown is the regional leader, educating for success in the Real World.