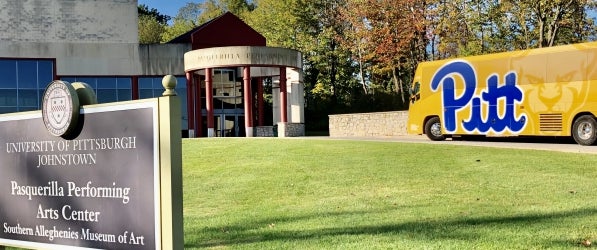 The University of Pittsburgh's board of trustees met on Friday, September 27, 2019, at the university's Johnstown campus in Richland Township.
Jem Spectar, president of the University of Pittsburgh at Johnstown, said after the meeting that several trustees and administrators from the university's Oakland campus toured classrooms and laboratories at the Johnstown campus on Thursday, meeting with students and faculty in the process.
"It was a great opportunity for the board of trustees to see the progress and the transformation and the developments that have occurred on our campus over the past few years," he said, "and to meet our students and to see the work of the students and to talk to faculty and staff about the university."
Spectar called it "a great honor and privilege" to host the board of trustees. He thanked the faculty, staff members and students who he said had made the trustees welcome on the Johnstown campus on Thursday and Friday.
During Friday's meeting, Chancellor Patrick Gallagher delivered a 45-minute-long report to the trustees on the developments at the university during the 2018-19 academic year. The beginning of his presentation was briefly disrupted by a group of students who stood to read demands that the trustees hold a vote at their next meeting in February on whether to divest from fossil fuels.
After the meeting, Gallagher told reporters that it was "invaluable" for the trustees and school administrators to visit Pitt-Johnstown and the other regional campuses in Bradford, Greensburg and Titusville.
"The University of Pittsburgh is a five-campus university, and the trustees hold the core responsibility of looking after the university's strategies and serving the needs of all its students," he said. "I don't see how they'd be able to do that without seeing what's happening on the other campuses.
"Each campus creates a different dynamic, and so we're really excited about this, that we were able to bring the whole board out here to our oldest and longest-existing regional campus, to see all the great things happening here, and also to hear from some of the civic leaders in Johnstown and hear their perspectives on what role the university plays in the region."