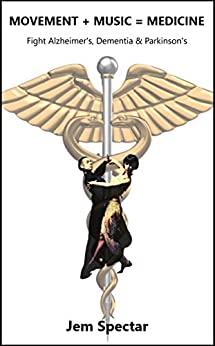 Pitt-Johnstown president Jem Spectar's book, Movement + Music = Medicine: Fight Alzheimer's, Dementia & Parkinson's, has just been published. In the book, Dr. Spectar writes about the looming threat of neurodegenerative diseases and the risk we all face. Dr. Spectar states his goal is to inform, empower, and inspire people to develop a plan of action, to help readers and their loved ones fight against these cruel and incurable disorders. "Informed by relevant research, this book shows that movement or exercise, particularly when combined with music, can have a powerful impact on brain health. The scientific research is also illuminated and amplified by the lived experiences of people whose stories reveal how movement, exercise, and dance therapy are helping them in the struggle against neurological disorders." He hopes that readers or their loved ones will increase their understanding of the medicinal impact of rhythmic movement and develop "greater confidence to make decisions" to "improve their brain health" and gain "a fighting chance at a better quality of life."
The book has also received strong praise from early reviewers.
"This well-researched book with intriguing and insightful anecdotes makes a substantial contribution towards understanding how movement, particularly dance, may help slow the course of Alzheimer's and Parkinson's diseases. The book is especially relevant and timely, given the alarming increase in the two diseases - medical conditions often associated with aging but highly variable between patients. Movement + Music = Medicine is highly recommended for a general audience seeking to learn more about neurological disorders and how lifestyle changes, particularly movement, exercise, and dance, may make a difference."
Arthur S. Levine, M.D. Executive Director, University of Pittsburgh Brain Institute, Professor of Medicine, Molecular Genetics, and Neurobiology.
"Dr. Spectar has created a masterpiece combining the history of dance across culture and time and the evidence to support brain health and combatting neurodegenerative disease… I am convinced, I will now be prescribing dance to my patients, for lasting limberness of the brain and the body."
Mylynda B. Massart, M.D., Ph.D., Physician and co-director, Pitt Clinical and Translational Science Institute.
"I have never seen a compilation of science and humanities so beautifully intertwined—like a dance in and of itself! … Through the lens of health and healing, Dr. Jem Spectar masterfully crafts the interrelationship between science and art as supported by a vast collection of empirical data, multicultural applications, and personal narratives that argue for the critical need of dance and movement to sustain a healthy society... Movement + Music = Medicine provides a substantial contribution to the growing field of Medical Humanities within medical schools, graduate studies, residency programs, public health departments, and, of course, dance… [This] book is phenomenal!"
Susan Wieczorek, Ph.D., Associate Professor of Communications, UPJ.
"As caregiver for a spouse struggling with late-stage Alzheimer's Disease, reading this enormously resourceful book makes me wonder what life for us might be like today if the book had been available earlier in our journey… Dr. Spectar's book appears to fill a void in therapeutic resources for Alzheimer's Disease patients and caregivers... I highly recommend this book for anyone who suspects a neurological disease may become an issue in their family. It's a must read for newly diagnosed patients with a neurological disease and for family members caring for patients who are advancing through various stages of the diseases."
Livy – a caregiver
Please see the link to the book "Movement + Music = Medicine: Fight Alzheimer's, Dementia & Parkinson's"