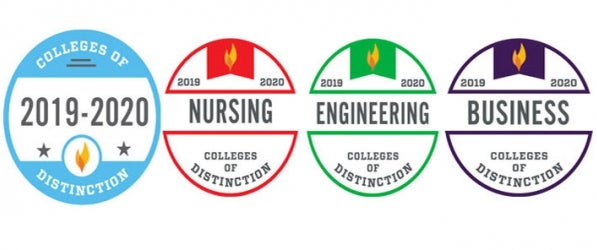 Pitt-Johnstown has received national recognition from Colleges of Distinction for the integrity of its truly individualized and engaging education and as an institution whose primary goals are based on student success and satisfaction.
Since 2000, the Colleges of Distinction website and guidebook have honored schools throughout the U.S. for their excellence in undergraduate-focused higher education.
Colleges of Distinction's selection process consists of detailed interviews and research for each institution's freshman experience and retention efforts alongside its general education programs, career development, strategic plan, student satisfaction, and more.
Schools are accepted on the basis that they adhere to the Four Distinctions: Engaged Students, Great Teaching, Vibrant Community, and Successful Outcomes.
Learn more about Pitt-Johnstown's recognition »
The University of Pittsburgh at Johnstown was founded in 1927 and is the first and largest regional campus of the University of Pittsburgh. Pitt-Johnstown is recognized by the Princeton Review as a "Best in the Northeast" college, by G.I. Jobs as a "Military Friendly School," and by Pennsylvania Business Central as a "Top 100 Organization." The distinctive combination of Pitt-Johnstown's people, programs, and place results in exceptional performance in preparing students for career and professional success. Pitt-Johnstown is the regional leader, educating for success in the Real World.