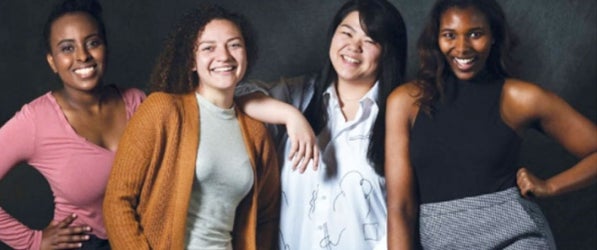 Pitt-Johnstown's Mariah Butchko (second from left) is among those featured in PITT Magazine's "World View" story. They are, from left: Eden Hailu, Butchko, Courtney Yu, and Ra'Van Williams. Photo by Tom Altany
Mariah Butchko, an early childhood and special education major at Pitt-Johnstown, is featured on the cover of the Summer 2018 edition of the University of Pittsburgh's PITT Magazine.
Butchko is a 2017 recipient of the Vira I. Heinz Scholarship for Women in Global Leadership. She is among four students featured in the magazine's story about Heinz Scholarship opportunities, titled World View.
Her study abroad opportunity brought her to Cape Flats, South Africa. She and several American college students volunteered at an after-school program in a service-learning project in which they talked with teens in an impoverished area.
The magazine story by Christina Rouvalis quotes Butchko's account of the visits. "They realized that we weren't going to leave and we were actually interested," she said. "Once we started to open up, that's when they started opening up as well."
The teens shared stories about the difficulties of supporting their families and the consequences of dropping out of school. The story explored how the Heinz Scholarship mission brought about change. Butchko said she hopes to go abroad again and possibly work with special needs children in a country where resources aren't always available.
Butchko is from Swansboro, North Carolina. She has served as an officer with the Black Action Society and the Dance Team, and is a member of the Education Club and the Women's Track and Field team. She has worked at Pitt-Johnstown with Campus Police and in Student Affairs.
The story about Butchko and three other Heinz Scholarship recipients, begins on page 21 of the publication, PITT Magazine.
---
The University of Pittsburgh at Johnstown was founded in 1927 and is the first and largest regional campus of the University of Pittsburgh. Pitt-Johnstown is recognized by the Princeton Review as a "Best in the Northeast" college, by G.I. Jobs as a "Military Friendly School," and by Pennsylvania Business Central as a "Top 100 Organization." The distinctive combination of Pitt-Johnstown's people, programs, and place results in exceptional performance in preparing students for career and professional success. Pitt-Johnstown is the regional leader, educating for success in the Real World.