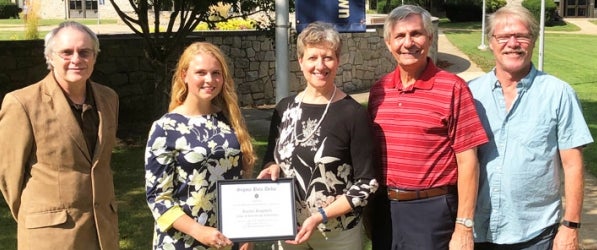 Pitt-Johnstown General Management and Financial Accounting major Rachel Rogevich received a $1,000 scholarship from Sigma Beta Delta ACBSP Region 2.
Sigma Beta Delta is the international honor society for business, management, and administration.
Ms. Rogevich noted that to "win the award gave me a sense of confidence that I am on the right path, that going after management and leadership style roles in companies is attainable and my past achievements are setting me up for the future."
She is a member of the Pitt-Johnstown women's soccer team, served as president of Alpha Kappa Psi local chapter and is now the professional business fraternity's community service chair, and has a high grade-point average.
The scholarship is awarded to only 30 students worldwide each year. To be selected, she had to meet the follow requirements:
top 20 percent of their class;
student in the business department;
nominated by a committee of Pitt-Johnstown business faculty, which may only nominate one student per year; and
write an essay for the international selection committee in St. Louis. 
Assistant Professor of Management and Chair of Management Programs John J. Byrne, PMP, noted this is the second year in a row that Pitt-Johnstown had a scholarship recipient. Sarah Conte was last year's recipient, according to Dr. Byrne.
Ms. Rogevich, of Oxford, PA, in Chester County, was recommended for the 2019 award by Pitt-Johnstown Assistant Professor of Accounting Cristina DeDiana.
"Rachel is one of the best students I have ever taught," wrote Mrs. DeDiana in her recommendation letter to Sigma Beta Delta. "She was always prepared, and ready to participate fully in all aspects of the classroom, both answering and asking questions. She was also a sought-after partner for group projects. Every student in the class recognized that her abilities would provide an extra boost to the project's result."
Mrs. DeDiana concluded: "I predict she will be a phenomenal success."
Ms. Rogevich is the daughter of Raymond and Beverly Rogevich, and granddaughter of Betty Lou Heibeck. After graduation in December 2019, she looks to work in a supply chain and/or quality management role.
"I want to thank my parents who have always supported my journey as a business student," said Rachel. "I would also like to acknowledge Dr. Byrne, Mrs. DeDiana, and Mr. (Gregory) Petyak for being instrumental in winning this award.
"Not only are they the advisors for Sigma Beta Delta, but they are the three professors I have had the most here at UPJ. Lessons they have taught me, both in and out of the classroom, are invaluable."
---
The University of Pittsburgh at Johnstown was founded in 1927 and is the first and largest regional campus of the University of Pittsburgh. Pitt-Johnstown is recognized by the Princeton Review as a "Best in the Northeast" college, by G.I. Jobs as a "Military Friendly School," and by Pennsylvania Business Central as a "Top 100 Organization." The distinctive combination of Pitt-Johnstown's people, programs, and place results in exceptional performance in preparing students for career and professional success. Pitt-Johnstown is the regional leader, educating for success in the Real World.