Simply Super!
A packed venue of fans ringed the fields on the lower level and along an elevated running track. Uniformed teams and coaches, steeped in strategy, shifted their attention from specific huddles to field performances and to the scoreboard throughout the daylong competition.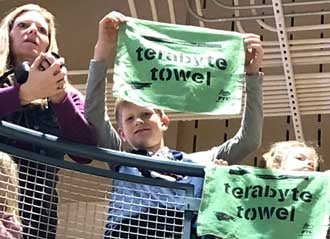 "Terabyte Towels" were waved instead of "Terrible Towels" and cheers were given for "end effectors" rather than "defensive ends."
Pitt-Johnstown's Wellness Center was the center of the region's youth robotics universe on Saturday, December 8, 2018. About 500 team members, coaches, and fans from 24 teams participated in the Pennsylvania FIRST ® Tech Challenge West-Central Qualifier.
FIRST®  (For Inspiration and Recognition of Science and Technology) founder Dean Kamen has said: "Robotics is a sport for the mind. The Super Bowl of the Smarts." This was Super Saturday.
Teams from Wisconsin to Maryland – including a team from Greater Johnstown High School and the green towel-waving Terabytes from nearby Plum, PA – battled for a spot at the 2018-19 FTC Championships.
Teams were tasked with designing, building, programming and operating robots in a head-to-head in a game called Rover Rokus Ruckus. The robots collected objects from within the field and navigated obstacles toward depositing the objects in their specific storage bins. Scoring was based on the speed and quantity of collections.
"The skills of tomorrow's workforce were on display today," said Roxanne Jenner, Pitt-Johnstown's Director of CODE Programs. Pitt-Johnstown launched CODE (Computational-Learning for Opportunities in a Digital Environment) for Commonwealth & Country with the goal of enhancing digital literacy for workforce competitiveness, beginning in K-12 and beyond.
Two CODE-inspired Johnstown-area middle school teams and two elementary school teams competed.
FIRST®  has called coding the "world's first global language." FIRST®  programs inspire STEM innovation excellence by teaching participants a multi-disciplinary set of 21st century skills and immersing them in project-based learning and robotics competitions made possible by public and private partnerships.
The event was supported through a generous donation from Lockheed Martin. Co-hosts were the Robotic Doges from Hollsopple, PA, a recent world's finalist robotics team. The tournament was free and open to the public.
Nanogurus of Morris Plains, NJ, proved to be too much for its Rover Rokus Ruckus competitors (see results) and advanced to the FTC Championships.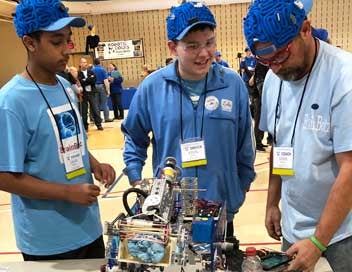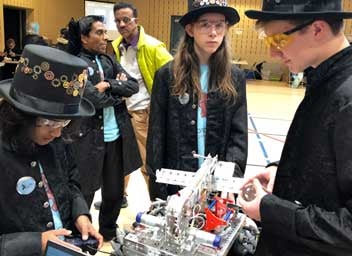 Media coverage:
---
The University of Pittsburgh at Johnstown was founded in 1927 and is the first and largest regional campus of the University of Pittsburgh. Pitt-Johnstown is recognized by the Princeton Review as a "Best in the Northeast" college, by G.I. Jobs as a "Military Friendly School," and by Pennsylvania Business Central as a "Top 100 Organization." The distinctive combination of Pitt-Johnstown's people, programs, and place results in exceptional performance in preparing students for career and professional success. Pitt-Johnstown is the regional leader, educating for success in the Real World.