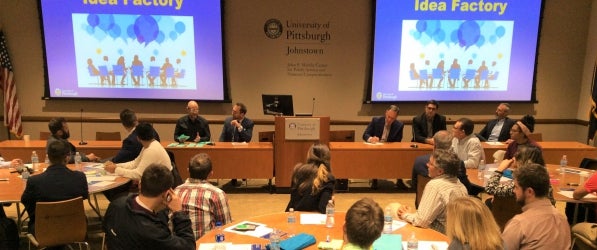 Pitt-Johnstown's Division of Business and Enterprise hosted a "Shark Summit" at the John P. Murtha Center for Public Service and National Competitiveness on Tuesday, November 19, 2019.
The Summit convened regional business leaders who have served as "sharks" in the Division's student shark tank business pitch competitions and as mentors to students in the Entrepreneurship Program. Pitt-Johnstown's President Dr. Jem Spectar thanked the business leaders for their generous and valuable contributions to the Entrepreneurship students' success and asked the sharks for their guidance in shaping innovations in the Entrepreneurship Program in anticipation of the campus's upcoming Strategic Planning process.
Marketing professor Skip Glenn provided attendees with an overview of the history and mission of the Entrepreneurship Program. According to Mr. Glenn, "Our program has reached a threshold where we need to design bridges of support beyond graduation so our students continue to move their idea to enterprise."
The Summit also included a "show and tell" portion as veteran shark tank students Laura Johnson, Alex Schork, and Josh Hill pitched award-winning business ideas that they had refined during the Program's first Mountain Cat Accelerator held this past summer and supervised by Mr. Glenn. The heart of the Shark Summit was the "Idea Factory," a brainstorming session in which the sharks, several faculty members, and students currently enrolled in this semester's Entrepreneurs Idea Lab class generated fresh ideas to connect student entrepreneurs more effectively with the expertise and resources they need to launch new businesses.
The Summit gathered more than 20 sharks, faculty, stakeholders and parents along with 20 current and past entrepreneurship students together in five round tables to generate fresh ideas for the course and future support of the program and its students.  More than 50 suggestions and recommendations were posted on a large timeline poster illustrating phases of engagement and support of the student entrepreneur from idea to full-fledged enterprise.
The summaries from the brainstorm sessions were presented by Summit facilitators Eber Verhovsek, Owner and President of Eber HVAC, Inc., Jesper Nielsen, Pitt-Johnstown alumnus and CEO of Croyle-Nielsen Therapeutic Associates; alumnus Michael Hruska, President and CEO of Problem Solutions; Jerry Hudson, Principal, Prosperity Innovations LLC; and Associate Professor of Mechanical Engineering, Brian Moyer
The Pitt-Johnstown Entrepreneurship Program is generously supported by Somerset Trust Company which was represented at the event by William Locher, Senior Vice President Commercial Banking.
---
The University of Pittsburgh at Johnstown, founded in 1927, is the first and largest regional campus of the University of Pittsburgh. Pitt-Johnstown is recognized by the Princeton Review as a "Best in the Northeast" college, by G.I. Jobs as a "Military Friendly School," and by Pennsylvania Business Central as a "Top 100 Organization." The distinctive combination of Pitt-Johnstown's people, programs, and place results in exceptional performance in preparing students for career and professional success. Pitt-Johnstown is the regional leader, educating for success in the Real World.