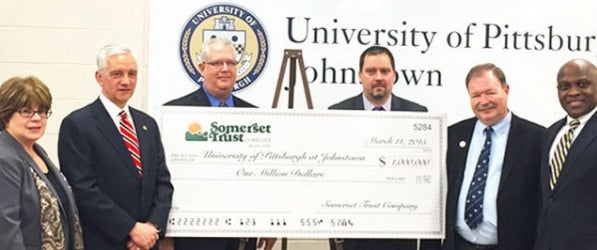 The University of Pittsburgh at Johnstown is pleased to announce a $1 million unrestricted gift from Somerset Trust Company. This philanthropic commitment to Pitt-Johnstown will be paid in $100,000 installments over 10 years, beginning this year.
In appreciation for this commitment, as well as Somerset Trust's legacy of support to the Johnstown community, the University will name two entities on campus in recognition of the gift. Pitt-Johnstown's entrepreneurship program will be formally named the "Somerset Trust Company Entrepreneurship Program," and the "Idea Lab" in Biddle Hall, where innovation and entrepreneurship are taught and developed, will be named the "Cook Family Idea Lab."
"We deeply appreciate this exceptionally generous gift commitment to the University of Pittsburgh Johnstown from Somerset Trust Company. A gift of this magnitude will unquestionably make a great difference toward strengthening Pitt-Johnstown and its mission of educating area students for success in the RealWorld. In addition, we are honored to have the Somerset Trust Company Entrepreneurship Program as well as the Cook Family Idea Lab as fixtures on our campus going forward. Both of these entities will surely advance our shared vision for innovation and entrepreneurial creativity that are so essential to the future of our region," said Dr. Jem Spectar, Pitt-Johnstown President.
A hallmark of the Pitt-Johnstown experience is offering out-of-class opportunities providing students with RealWorld experience and professional connections with community leaders in the region. Through the new Entrepreneurship Program, Pitt-Johnstown is creating a robust and systematic means for identifying, educating, and nurturing entrepreneurial talent among students and connecting them to resources to support their aspirations. These students will graduate with entrepreneurial vision and skills that will help them in their careers or that may lead them to be innovators, inventors, or new venture founders.
One of the strengths of the Entrepreneurship Program is the network of community partners including local entrepreneurs, investors, and consultants who are supporting the program.  The goal of the group is to contribute to local economic development by systematically matching investors with entrepreneurs. The program has a variety of elements, including Pitt-Johnstown's development of an entrepreneurial talent pipeline and physical space (the "Idea Lab") for idea/product development through which student entrepreneurs can compete for investment support.
"When I think about our region and its needs, the top priority is the need for living wage jobs for our residents. The leaders in job creation are always the local entrepreneurs who have the imagination and discipline to see new possibilities and make them happen. When Dr. Spectar told us of his vision for the Entrepreneurship Program, our entire team was overwhelmed, knowing that these were the right people, taking on the right challenge, to help our region move ahead," said G. Henry Cook, President and CEO of Somerset Trust Company.  "In our footprint, we have always known the importance of the University of Pittsburgh at Johnstown. The number of business people we deal with who have a Pitt-Johnstown background is truly impressive. Among our employees and families, it is clear Pitt-Johnstown is the go-to institution of higher learning. The entire Somerset Trust Company team is pleased and proud to be part of an effort that can be so beneficial to our region."
In 1889, the town of Somerset, described by a newspaper at that time as "an aggressive mountain town," was growing with a population of almost 4,000. Businessmen and community leaders realized the emerging need for a local bank if their community was to continue to thrive. Congressman and Civil War veteran Edward Scull, and the fourth of his six sons, George R. Scull, turned that vision into a reality when they established what was to become Somerset Trust Company.
That independent community vision still exists today at Somerset Trust Company. Now under the leadership and guidance of the fifth generation of the Scull family, the bank has endeavored to enhance the traditional qualities of community banking by effectively using technology to support excellent service to customers. George S. Cook, great grandson of the Congressman, served for 34 years as the bank's president, CEO and chairman of the board.  In retirement, he continued to serve on the bank's board of directors and remained active in community endeavors. Today, his son, G. Henry Cook, heads the institution. Other sons, Thomas J. Cook and Andrew Cook, are integral members of the bank's senior management team.
The more than 300 people employed by Somerset Trust Company are committed to a common mission – to provide excellent personal service and financial products to customers, and to contribute to the overall growth and economic development of the region. Somerset Trust Company is committed to reinvesting in the community to make the quality of life ever better for local residents.
"The Cook Family's leadership of an outstanding company, their family's contributions to the community over the decades, and Henry's Cook's vision are sources of pride for all of us here at Pitt-Johnstown." said Dr. Spectar.
Founded in 1927, Pitt-Johnstown is located in the Laurel Highlands of Western Pennsylvania and is the first and largest regional campus of the University of Pittsburgh. The University is the regional leader, educating for the RealWorld. The distinctive combination of our people, programs, and place results in exceptional performance in preparing students for career and professional success. Pitt-Johnstown is recognized by the Princeton Review as a "Best in the Northeast" college, by G.I. Jobs as a "Military Friendly School," by AC Online as one of the "Highest ROI Colleges in Pennsylvania," and by Pennsylvania Business Central as a "Top 100 Organization." Additionally, Pitt-Johnstown has been named to the 2014 President's Higher Education Community Service Honor Roll, and has been presented with The Seven Seals Award by the US Department of Defense's office of Employer Support of the Guard and Reserve.