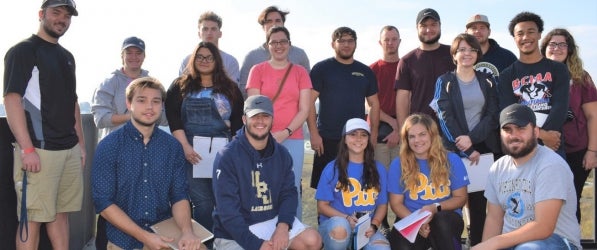 Professor Diane Nicodemus took students of Visual Communication at Pitt-Johnstown on a field trip to the Flight 93 National Memorial on Thursday, October 3, 2019.
Students studied the architectural elements to better understand how the memorial helps visitors establish a personal and emotional connection to the people, events, and principles honored.
The Pitt-Johnstown students also considered how the architect uses natural elements such wetlands to connect the psychological trauma and healing of 9/11 with the physical trauma to the land from coal mining and the restoration of this rural environment.
 
---
The University of Pittsburgh at Johnstown, founded in 1927, is the first and largest regional campus of the University of Pittsburgh. Pitt-Johnstown is recognized by the Princeton Review as a "Best in the Northeast" college, by G.I. Jobs as a "Military Friendly School," and by Pennsylvania Business Central as a "Top 100 Organization." The distinctive combination of Pitt-Johnstown's people, programs, and place results in exceptional performance in preparing students for career and professional success. Pitt-Johnstown is the regional leader, educating for success in the Real World.