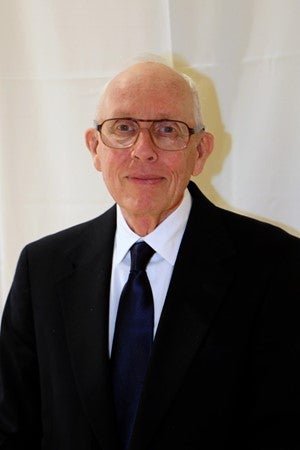 It is with great sadness to announce that beloved Dr. Clark Strausser, prominent Professor of Economics at Pitt-Johnstown, passed away August 20, 2020. It was hard not to walk the halls of the Pitt-Johnstown campus or go to a wrestling match without seeing the magnetic smile of Dr. Strausser. A familiar face on campus for decades, he was hired on September 1, 1973 as an Associate Professor of Economics at the Johnstown Campus and retired on August 31, 2008 with Emeritus recognition.
 Dr. Jem Spectar, President of Pitt-Johnstown, said, "Although he retired over a decade ago, Dr. Strausser was a distinguished member of the university family for 47 years (35 years as a professor and 12 years since retirement) until the very last day of his life when several of us here at the university called to chat with him on Thursday morning. As a professor, students benefitted from his brilliance as he challenged them to bring out their best. Over the years, alums have shared with me that his excellent and rigorous teaching as well as his high expectations, pushed them to work extremely hard and they credit him for their success later in life."
Dr. Raymond B Wrabley, Chair of the Division of Social Sciences and Division of Business and Enterprise, said, "Dr. Strausser was a smart and tough professor. To many he seemed intimidating. But he was also a hugely generous, gentle, and compassionate man. He gave gifts to the children of faculty and staff, tutored struggling students long after he retired, and cared deeply about Pitt-Johnstown and our community. I'll miss our daily conversations." 
Along with his work in the classroom, Dr. Strausser was also an avid supporter of Pitt-Johnstown athletics, both academically and financially. "We formed a unique and unlikely friendship for two men from completely different backgrounds," Pat Pecora, Pitt-Johnstown's Athletic Director and Head Wrestling Coach, said, "The relationship withstood the test of time, for over 45 years, and touched thousands of lives. I will always value and treasure our friendship. 'Doc' Strausser became a part of my family and was a  vital member of the UPJ Wrestling Family. He will be missed but never forgotten.  Rest in peace, brother."
"Without any doubt he was the Number 1 Fan of our Mountain Cat Wrestling Team for decades, present at every match, cheering our guys and the great Coach P. Always a teacher, he gave me a great tutorial on how to keep score. The university recognized Dr. Strausser for his distinguished service to student-athletes and the collegiate athletic program with the Meritorious Service Award at the Athletics Hall of Fame on April  22, 2017," Dr. Spectar said. 
One of his favorite things to do was to roam campus and say hello to faculty, staff, and students. "I will never forget the daily visits from Dr. Strausser at lunchtime as we would discuss whatever topic happened to be making headlines for that day. During the last several months and even during the final days of his life, my time spent with him allowed me to confirm that inside, Dr. Strausser was indeed a gentle and caring individual. I will certainly miss him," said WillieMyers, Pitt-Johnstown's ID Center administrator.
Spectar said, "Dr.  Strausser was also tremendously generous to the University, supporting academics and athletics programs over the years, including through the Clark W. Strausser Scholarship Fund - although he did not want any attention drawn to his extraordinary philanthropy. I can attest to his great concern for students in financial need and his willingness to always support student scholarships."
"I was fortunate to know and spend a lot of time with Professor Strausser over the years, as he often made his rounds throughout the Campus, visiting faculty and staff. He was more than just a faculty member who retired after decades of service; he was our friend and part and parcel of our UPJ-Pitt-Johnstown family and we'll miss him," Dr. Spectar concludes.