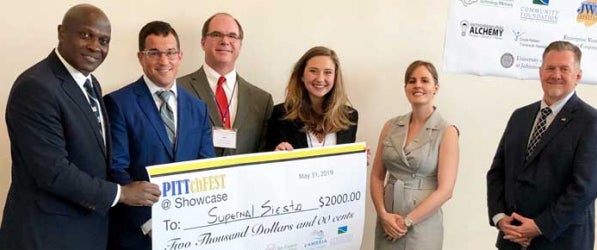 Laura Johnson (third from right) is flanked by Pitt-Johnstown President Jem Spectar (left) and "Sharks" Adam Murphy, Jim Huerth, Kelly Dane, and John Polacek at PITTchFEST.
Pitt-Johnstown business student/entrepreneur Laura Johnson's Supernal Siesta placed first at at PITTchFEST, a Shark Tank-style competition that is part of the annual Showcase for Commerce, on May 31.
A total of $3,700 in prize money was awarded to winners by local "sharks" from the regional business community who will serve as judges.
The product offers technology that helps women who are managing hot flashes and the effects of menopause to stay cool and rested through the night on fashionably crafted mattresses. Supernal Siesta also earned Johnson a Shark Tank win in the Fall 2018 competition.
Also placing was Ben Wargo for Skill Spirit, an incremental learning app that provides incentives and nudges to acquire languages or other complex topics that require practice and engagement over long periods.
Alex Schork's Smarchitecture is an instantly shared ditigital imagery smart table for architects, designers and artists.
Celebrating its sixth year of promoting and investing in entrepreneurs, PITTchFEST seeks to award ideas and innovation that go beyond the traditional for-profit models and provide potentially significant and sustainable value in enhancing our economy and community. 
PITTchFest is a collaboration of Pitt-Johnstown, Johnstown Area Regional Industries (JARI), and the Cambria Regional Chamber, with co-sponsorships from local businesses and foundations. The students are part of our Entrepreneurship Program and are graduates of Pitt-Johnstown professor Skip Glenn's Entrepreneurs Idea Lab class.
Often defined as social entrepreneurship or social innovation, PITTchFEST looks to honor the best ideas that could reshape the landscape for local enterprise, culture, communities or environment and thus increase the quality of life and commerce in our region. 
In the Social Entrepreneurship category, Friends of the Incline Plane Trails took first place. Conemaugh Valley Conservancy and Central Park Square/Gallery on Gazebo placed.
The University of Pittsburgh at Johnstown was founded in 1927 and is the first and largest regional campus of the University of Pittsburgh. Pitt-Johnstown is recognized by the Princeton Review as a "Best in the Northeast" college, by G.I. Jobs as a "Military Friendly School," and by Pennsylvania Business Central as a "Top 100 Organization." The distinctive combination of Pitt-Johnstown's people, programs, and place results in exceptional performance in preparing students for career and professional success. Pitt-Johnstown is the regional leader, educating for success in the Real World.