By Mike Morlacci
David Willey exhibited more method than madness as he taught his final physics lab at Pitt-Johnstown on March 24, 2016. His retirement at the end of the spring term concluded 42 years of a unique collegiate instruction style that educated students and inspired Willey's entertaining Mad Scientist persona.
The Willey Files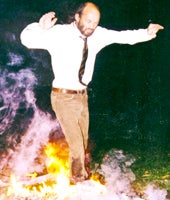 The 18 students in the Krebs Hall lab were treated to a lesson plan, subdued demonstrations, and the end of an era. There was no launch of projectiles via a liquid nitrogen cannon or barefoot fire walks across hot coals.
"We didn't do much of that in the classroom," Willey said in summary of a career that brought him to Pitt-Johnstown from Aston, England. "That's part of the 'show.'"
The "show" – a performance of physics by the lab coat-clad Mad Scientist – gained Willey recognition beyond the classroom and landed him 19 appearances on The Tonight Show with Jay Leno, including the memorable smashing of a cinder block atop Leno as the host was lying on a bed of nails. Recently, Willey has been a regular guest on the Canadian science program Daily Planet, as well as numerous other variety and science programs.
In the early 1980s, he performed his first physics show at Pitt-Johnstown, which led to a physics presentation titled "How Does a Thing Like That Work?" His wife, Raven, became his assistant and he performed throughout the region. 
The "show" went national as a result of the "walk."
On July 2, 1998, on Pitt-Johnstown's campus mall, Willey set the world record for a fire walk. Willey and 14 others conducted the 165-foot walk barefoot across burning coals, which was documented by the BBC for the Discovery Channel and by John Stossel for ABC, and submitted to the Guinness Book of World Records. The record has since been broken.
The walk was a demonstration in the cause of learning. It was conducted to gather data on the relationship between time of contact with the coals and temperature of the coals. "The demonstrations are designed to demystify tricks and identify and show principles of physics at work, and they can be fun," he said.
"They (representatives from The Tonight Show) found out about me because of the fire walk," said Willey. "The whole experience was very enjoyable, and they treated us very well. They kept having us back."
The appearances earned Willey worldwide acclaim.
Physics has been Willey's life interest since he attended The Coleshill School and the John Port School in England. His teaching style was formed there. It was the result of an unintended experiment, as two distinct classroom events produced an outcome. "I had a very good physics teacher after a very bad one," he said. "I thought: 'if my good teacher can make a big, positive difference for me, maybe I can make the same for others.'"
Willey studied at Aston and Birmingham universities, in England, and earned his master's degree at Ohio State University. He arrived at Pitt-Johnstown in the mid-1970s, established himself as a unique educator, and then expanded his distinctively entertaining presentations from the classroom to the stage in the early 1980s.
His instructional effectiveness earned awards ranging from the Teacher of the Year for Natural Science to the President's Award for Excellence in Teaching.
The e-publication EducationWorld.com, paid tribute, stating: "Willey isn't afraid to test the laws of physics – literally! He believes that this experimentation is key to explaining difficult concepts to his college classes, and he has taken his message to students and teachers all over the nation."
The last-lab lesson plan - about simple harmonic motion - used an informal formula that combined wisdom and wit with typical and atypical classroom procedure. There were enough facts and information to fill a textbook, as there were irreverent quips to make a late-night talk show host (or guest) proud.
The instructor acknowledged with genuine appreciation a student's identification of Hooke's Law, made a scientific point about elasticity by launching a rubber band at one student, and used a stepladder to fetch and unleash a Wilberforce pendulum from its ceiling perch.
Willey hinted that he will enjoy retirement with props such as golf clubs and gardening tools, and reprise the Mad Scientist, who will continue to creatively educate beyond the classroom.
Attendees of the final lab did not witness an explosively ceremonial exit. Rather, they received physics instruction in a somewhat animated, ever-informative method. They became part of David Willey's lasting impact on Pitt-Johnstown.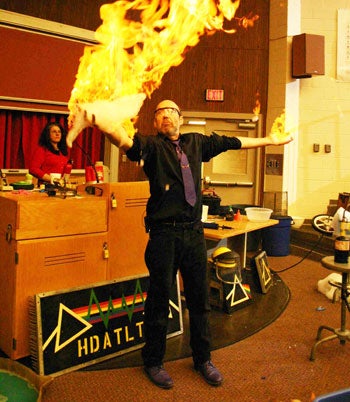 Willey was literally a smashing success on The Tonight Show with Jay Leno (left), and held the  attention of his audience - as well as fire - while presenting How Does a Thing Like That Work?
Photos provided by David Willey.