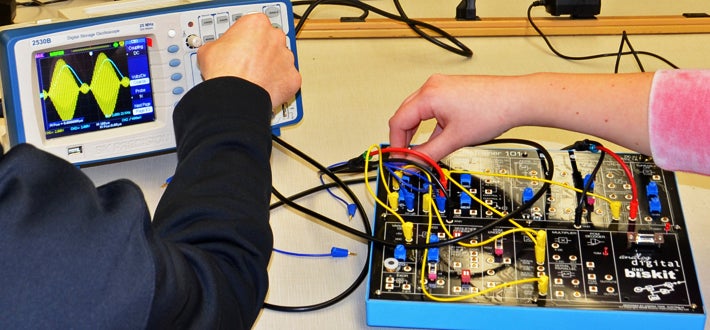 Curriculum » |  Minor Curriculum »  | » |  Objectives and Outcomes  | Enrolled/Graduates  | Faculty
The Pitt-Johnstown Electrical Engineering (EE) program, which began in Fall 2015, prepares students to work in areas of production design and manufacture, systems integration, plant operations, field support and engineering sales. Power systems are the hallmark of the program with an emphasis on all phases of power generation and distribution. 
EE is a broad and challenging field that offers employment and career opportunities ranging from research and product development to engineering sales.
Our alumni have earned masters and doctoral degrees at several well-respected universities. These Pitt-Johnstown alumni then go on to careers in research and development, advanced design, or academe.
The EE curriculum is designed to accomplish this preparation. A top-down view of the curriculum reveals three major branches of knowledge - technical, professional, and cultural - which prepare our graduates for successful careers.
Accredited by the Engineering Accreditation Commission of ABET, https://www.abet.org
ENROLLED STUDENTS/GRADUATES
| | | |
| --- | --- | --- |
| Academic Year | Enrolled Students | Graduates |
| 2021-2022 | 33 | 4 |
| 2020-2021 | 42 | 14 |
| 2019-2020 | 46 | 9 |
| 2018-2019 | 43 | 3 |
| 2017-2018 | 22 | 0 |
Program Objectives and Outcomes
Program Educational Objectives

Pitt-Johnstown Electrical Engineering graduates will:

•    demonstrate expertise in a scholarly discipline;
•    adapt to technological change by acquiring new knowledge and mastering emerging technologies;
•    function independently and in leadership positions within diverse teams; and,
•    practice responsibly in a global environment contributing to the society

Student Outcomes

Pitt-Johnstown Electrical Engineering graduates will have developed the ability to:

identify, formulate, and solve complex engineering problems by applying principles of engineering, science, and mathematics

apply engineering design to produce solutions that meet specified needs with consideration of public health, safety, and welfare, as well as global, cultural, social, environmental, and economic factors

communicate effectively with a range of audiences

recognize ethical and professional responsibilities in engineering situations and make informed judgments, which must consider the impact of engineering solutions in global, economic, environmental, and societal contexts

function effectively on a team whose members together provide leadership, create a collaborative and inclusive environment, establish goals, plan tasks, and meet objectives

develop and conduct appropriate experimentation, analyze and interpret data, and use engineering judgment to draw conclusions

acquire and apply new knowledge as needed, using appropriate learning strategies.

Program specific student outcomes:

(A) use probability and statistics to analyze engineering related data.

(B) apply project management techniques in appropriate engineering projects.