Computational-Learning for Opportunities in a Digital Environment
Pitt-Johnstown and partners have launched a bold and ambitious initiative – CODE (Computational-Learning for Opportunities in a Digital Environment) for Commonwealth & Country – with the goal of enhancing digital literacy for workforce competitiveness, beginning in K-12 and beyond.
Computer Science Opportunity Gap: The U.S. has 527,169 open computing jobs
Schools Lag Behind Parent Demand: 90-percent of parents want their child to learn computer science
Statistics source: Code.org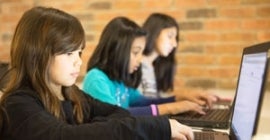 Goals
Establish Coding Literacy as a critical component of a complete 21st century K-12 education 
Make computer science accessible for all students, including underserved communities
Prepare PA K-12 for 21st century workforce
Create a statewide model for delivering coding education
Support the PA Department of Education efforts to develop common standards for computer science
Prepare teachers for 21st century digital literacy
Serve as a national model for transforming so-called "Rust Belt" areas into digital-age economies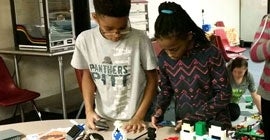 Path to Progress K-12
Code for the CommonWealth, launched in the Greater Johnstown region through the Pitt-Johnstown Outreach Offce, is the first step in an effort to assimilate coding literacy into the K-12 curriculum and after school and summer programs across the commonwealth.
Plan For Action:
Deliver a framework for 21st century learning to PA school districts
Emphasize hands-on, easy to learn, interactive, project-based learning approaches
Provide relevant cross-curriculum projects and experiences
Align digital literacy with real world applications in music, arts, sports and the like
Offer fun, game-based program delivery 
Develop a community-based model of learning support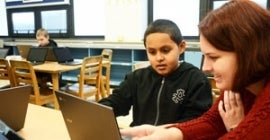 Education Beyond K-12
Under the leadership of Dr. Gerald Zahorchak, former PA Secretary of Education, Pitt-Johnstown is taking steps to prepare teachers to advance 21st century digital literacy.
Pitt-Johnstown Plan For Educators:
Prepare pre-service teachers by requiring mastery of STEM and digital literacy
Offer computer science minor for students seeking education degrees
Seek PA Department of Education STEM endorsements for emerging educators' certification
Establish a professional learning and support network within PA, offering Act 45 and Act 48 certification
Help school districts develop high-level AP/Dual Enrollment delivery
Establish a team of students - The Coding Corps For The Commonwealth - to work with K-12 students across the state