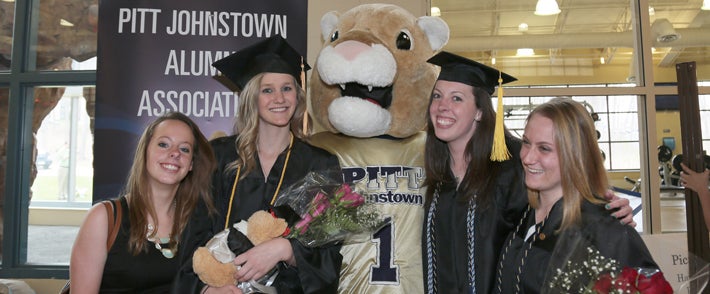 At Pitt-Johnstown, we are Mountain Cat Proud of our more than 22,000 alumni who are making a difference right here and around the world, experiencing professional success, finding personal fulfillment, and serving their communities!
Your alma mater salutes you, and our desire is to serve and support you throughout your life. After all, you're a student once…but a Pitt-Johnstown alumnus forever. We believe in a lifelong, mutually beneficial relationship between the University of Pittsburgh at Johnstown and each of our graduates.
There are a variety of services and methods of engagement that the Office of Alumni Relations provides, as well as a number of ways whereby you can lend much-needed and appreciated support to your alma mater.
Watch The Pitt-Johnstown Chamber Choir sing the University of Pittsburgh Alma Mater.