The ID Center produces Pitt-Johnstown identification cards for students, faculty, staff, and certain affiliates of the University. The center also generates badges for security purposes to employees who work in varying locations and to outside contractors authorized to work on campus.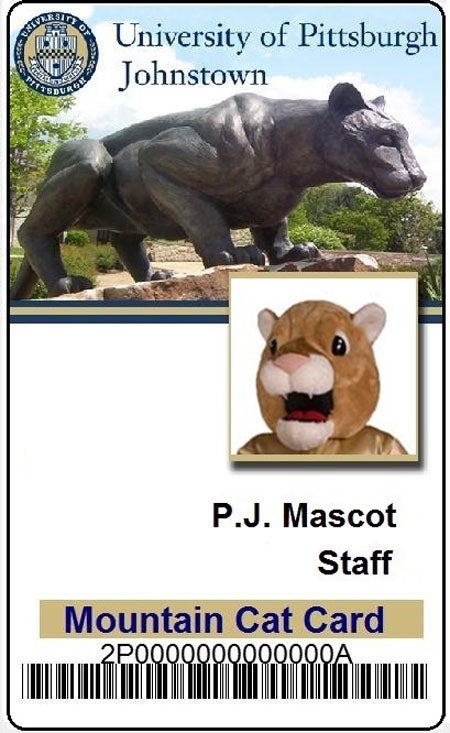 Cards are produced on a state of the art ID Card printer and laminator and can be produced on-site in a matter of minutes.
The card serves as a means for students to access meal plans and their campus residence hall. Students may add funds to their individual Mountain Cat Cash account at the Business Office, 125 Blackington Hall. Mountain Cat Cash is used for making purchases at all campus eating venues and at the Bookstore.
Do not punch any holes in your ID card as it may cause the card to malfunction.
Use an ID Card for on-campus purchases via CBORD »
There is no initial charge for a Mountain Cat Card. There is a $20 fee to replace a lost card and a $5 fee to have a temporary card issued. If a card has been misplaced, the ID Center will deactivate that card and can then issue a temporary ID if requested by the student. The temporary ID card is valid for a period of seven days. If the original card is found during this period, the owner should return the temporary card to the ID Center at which time his/her original card will be reactivated.
Freshman ID Cards
Students on campus for the summer Academic Planning sessions or Placement Exams will have photos taken at that time. These cards are not immediately produced, but are distributed to students in August during New Student Orientation and move-in day.
Cashless Purchases
The CBORD Privilege Control System (PCS) is a windows-based program that allows patrons to make cashless purchases on campus.
At Pitt-Johnstown, the CBORD system is used to accommodate cashless purchases at all food service locations as well as at the campus bookstore.
Account data for each patron is stored on a server which is accessed via a magnetic strip of the reverse side of a patron's ID card. There are multiple CBORD communication terminals located throughout the campus that can read the magnetic strip on an ID card.
There are currently two types of accounts maintained by our CBORD system: dining and Mountain Cat Cash.
CBORD Information
CBORD Meal Plans, Student Union, Room 130
814-269-1905