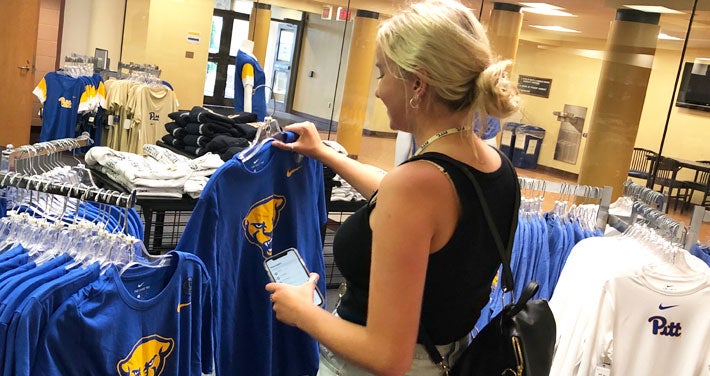 Buy or Rent Textbooks Online »  |  Apparel and Accessories »  |  Book Center App »
The Pitt-Johnstown Book Center is your source for textbook purchases and rentals, educational supplies, and university merchandise. Located in the ground floor of the Student Union, the bookstore also offers Mountain Cat apparel, accessories, and souvenirs.
The Book Center welcomes Pitt-Johnstown Mountain Cat Cash, which enables students to purchase products and services on campus with their Pitt-Johnstown ID card. Learn more »
Book Center authorizations are available for students interested in using excess financial aid to cover the cost of their textbooks.
The facility is managed by eFollett.com. The book center also houses the campus convenience store, which offers health and beauty aids, snacks and drinks.
Book Center Schedule:
Standard Summer Hours
Monday - 9 am to 4 pm
Tuesday - 9 am to 4 pm
Wednesday - 9 am to 4 pm
Thursday - 9 am to 4 pm
Friday - 9 am to 4 pm
Saturday - Closed
Sunday - Closed
Closed Monday, May 29th for Memorial Day
You may order course materials through the Book Center website to be picked up, or to have shipped to your location.  You may email the store manager Tim Jones direct at tjjones@pitt.edu, or call the Book Center at 814-269-7100 for further assistance.  
Contact: 814-269-7100
Twitter »  |  Facebook »  |  Instagram »
Book Center Authorizations
Pitt-Johnstown Book Center authorizations are available to students who would like to use excess financial aid to buy their textbooks in the University Book Center. Students anticipating a refund can contact the Business Office for an authorization form.
Book Center authorizations will be issued up to the amount of the expected refund
To get the exact amount of your textbook purchase, stop by the Book Center or view the prices online »
Email the Business Office to get an authorization form - upjbills@pitt.edu
A charge will be posted to the students PittPAY account for the authorized amount
Contact the Book Center to make your purchase and use the authorization form as payment - tjjones@pitt.edu
After add/drop student accounts will be adjusted to actual amounts spent