The Pitt-Johnstown MountainCat Veterans Program (MVP) recognizes the service performed by United States military veterans, and assists them in making a successful transition into the student population. This program represents Pitt-Johnstown's deep commitment to serving current and former members of the United States Armed Forces (Army, Navy, Marine Corps, Air Force, and Coast Guard) who served on active duty.
The MVP is a collaboration of many units across the campus that compose the Veterans Support Council. Pitt-Johnstown is a proud participant in the Yellow Ribbon Program.  Our commitment to veterans and active-duty military men and women has earned Pitt-Johnstown the prestigious distinction of being named a "Military Friendly School" by GI Jobs magazine. 
Currently, our campus has more than 30 veteran students.
For more information:
Admissions Welcome Center
157 Blackington Hall
814-269-7050
upjadmit@pitt.edu
Benefits at a Glance
Accelerated Admission Review This application process has been developed through the Office of Admissions/Advanced and Continuing Education, in which veterans are provided the opportunity to begin an academic program on either a part-time or full-time basis. Students who enroll through Advanced and Continuing Education benefit from communication geared to their nontraditional situations and needs, personalized academic advising, and assistance with transfer into traditional academic divisions at Pitt-Johnstown. The standard Application Fee is waived for all veterans.
Priority Registration MVP participants are provided with special priority status enabling them to register before the general student population. 
This provides you with the opportunity to register for popular classes that typically fill very early during the open registration period.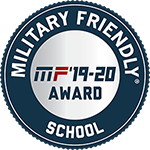 The 2019-20 Military Friendly School list honors colleges, universities, and trade schools in the country that are doing the most to embrace military students, and to dedicate resources to ensure their success in the classroom and after graduation.
Credit Evaluation Credits earned from previous course work, including through military service, can be evaluated for potential transfer to Pitt-Johnstown. Transcripts will be evaluated closely in order to maximize the number of credits awarded. Eligible applicants may benefit from the College-Level Examination Program (CLEP).
Specially trained individuals have been designated as your primary points of contact in several student services and administrative departments, which comprise the Veterans Support Council:
Contacts:
Brett Haselrig
Director of Admissions
814-269-7076
Kathleen A. Patterson


Human Resources Specialist




814-269-7030

Janet Grady, DrPH, ANEF, FAAN
Vice President, Academic Affairs
814-269-2078
Shelley Peruso
Executive Director, Health and Counseling Services
814-269-7119.
Lisa Hunter
Registrar
814-269-7060
Sherri Rae
Director of the Office of Equity and Community Engagement
814-269-7113
Stephen Kilpatrick, PhD
Assistant to the Vice President for Academic Affairs
814-269-2077
Amanda Reed
Director, Business Office/Billing
814-269-7040
Bob Knipple
Executive Director, Housing and Dining Services
814-269-7072
Christian Stumpf
Vice President for Student Affairs
814-269-2020
Sharon Sutt
Registrar's Office - VA Certifying Official
814-269-7055
Joni Trovato
Director, Financial Aid
814-269-7045
 
Brand Rager
Interim Director, Career and Professional Services
814-269-7123
 
Additional Benefits and Services
As an MVP, you are also eligible for:
Free parking
20% discount on clothing and various items in the Pitt-Johnstown Book Center
Annual President's Veterans Day luncheon for you and a guest
Fellowship and networking opportunities through the Pitt-Johnstown Veterans Support Group
In order to qualify for participation in the MountainCat Veterans Program, individuals must meet eligibility requirements for the GI Bill®.
Act 46 of 2014 requires public institutions of higher education in Pennsylvania to provide veteran students, as defined by the Act, with preference in course scheduling.  Non-compliance may be reported to the Pennsylvania Department of Education by submitting the Higher Education Student Complaint form found at www.education.state.pa.us.