Pitt-Johnstown is proud to serve first-generation college students—undergraduates whose parents or legal guardians did not graduate from a four-year college. 
The first-generation population at Pitt-Johnstown far exceeds the national population and represents well over a third of our students. First-generation students and their families can have a difficult time navigating the campus. Therefore, we offer a variety of services designed to support and empower students and families to engage with campus services and opportunities.
First at Pitt-Johnstown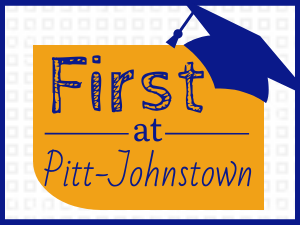 The First at Pitt-Johnstown program creates a space for first-generation students to navigate their transition to college together.  We know it can be an exciting and difficult time, so we created this program to support you along the way to a successful first semester!  Here is what our participants had to say:
I felt like I had a support system of people who could relate to the same things I was going through. - 2019 Participant
This class helped me transition into college, taught me how to get involved, and made me more comfortable with people. - 2019 Participant
I think this program provides a phenomenal resource for first generation students. It allows students to openly discuss their hardships and find ways to navigate any internalized conflicts. - 2018 Participant
We invite incoming first-generation students to join the First at Pitt-Johnstown program – an initiative funded by the Provost's Personalized Education Grant.  In the first two years of the program, participants have achieved higher academic performance than non-participants while creating a family-atmosphere with other first-generation students. The program consists of the following components:
Mastering College: a one-credit course designed specifically to meet the needs of first-generation students to increase the likelihood of a successful college transition
Peer Mentoring with the First MAPS: Participants are matched with upper class first-generation students who provide support and give participants the "inside scoop" on navigating college life. 
Activities: Participants and mentors gather for on- and off-campus social events and activities.
I'm Interested!
To join the program, complete the first-generation student questionnaire. Admitted Students who have identified as first-generation on their application will be sent personalized information about the program in the Spring.  If you are an Admitted Student interested in joining the First at Pitt-Johnstown program, please email k.helms@pitt.edu. 
First MAPS

Students in the First at Pitt-Johnstown program are matched with a First MAPS mentors.  First MAPS are upperclassmen students who are first-generation—many of whom were in the First program themselves.  They meet regularly with their mentees, answer questions, and share advice that they wish they had as first-year students.

The 2019 First MAPS and staff pose during training. Front row (left to right): Liz Penaloza, Jillian McGuckin, Shunterra Davis, Felicity Long; Back row (left to right): Kate Stahl Kinsinger (ASC director), Destiny Caristil, Kayla Lesofsky, Adan Cabrera Perez, Keria McCulloch, Kristin Helms (Academic Counselor)

The FirstGen Club

My name is Kayla Lesofsky from the city that bleeds black and gold, Pittsburgh, PA. I am the former FirstGen Club President and am so excited to meet you! Coming to UPJ from a rather large high school on top of being a First-Generation college student was definitely a challenge that I had to face but I am more than excited to tell you that YOU ARE NOT ALONE! FirstGen Club is a great opportunity for First-Generation college students at UPJ to make connections with fellow peers as well as the community. Through this club students are able to share a bond with other students and vibe with them through anything and everything college life throws at us. On behalf of the FirstGen Club, we have some pieces of advice for first-gen freshmen: never be afraid to let your true colors show, be courageous, and have fun!

All first-generation students are invited to join our student organization, which was created to provide a common space for first-gen students to come together to support one another and to participate in fun activities and service learning projects.  Club members may elect to participate in high school outreach efforts to educate and support prospective first-gen students. 

Contact FirstGen Club President Kayla Lesofsky at krl74@pitt.edu or Vice-President Liz Penaloza at klp108@pitt.edu for more information. 

First Team

The First Team is comprised of faculty and staff who are designated first-generation student helpers.  These dedicated, compassionate professionals can help you get the most of out of their office's services to improve your campus experience. Find out who is on the First Team by looking for the "I support first-generation students" sticker on their office doors!