Join Pitt-Johnstown students, staff, faculty, alumni, family, and friends for a full slate of fun and activities on Homecoming & Family Weekend, October 2-5, 2019!
Homecoming & Family Weekend Schedule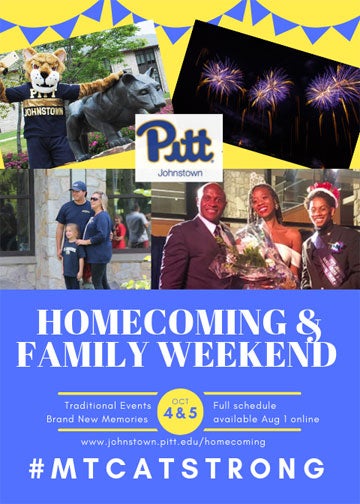 Wednesday, October 2
Student Organization window painting and banner competition.  Homecoming week Spirit Swap  (more coming on this)
Thursday, October 3
Lip Sync Battle  (more info coming)
Friday, October 4
Homecoming and Family Weekend Mt Cat Festival and Fireworks 
Join us at the University Mall for some great food, amazing entertainment and a chance to connect as one Pitt-Johnstown Community.  Rain site is the Student Union. 
4:30-7:00 pm   Food and Festival 
We are firing up the grills and prepping the mall for a night of dining and enjoying a fall night on campus! 
Bring your friends, your appetites, and your sweatshirts to enjoy a meal and the evening entertainment. 
Student organizations will have interactive activities for the kids as well as fellow classmates. 
You need not have a meal plan to participate in this event. Please bring your Student IDs/Pitt IDs if you have one. 
All are welcome. 
6:00-9:00 pm  
Mountain Cat Mixer sponsored by the Pitt-Johnstown Alumni Council - Krebs  with rain site in the Mt Cat Club, Student Union. 
Enjoy a beverage with alumni of all ages!  Visit with old friends and network with new ones as we casually enjoy some time connecting and enjoying the brave souls who compete in the annual Live Band Karaoke event!   More information forthcoming! 
Live Band Karaoke sponsored by the Pitt-Johnstown Program Board  - Back by popular demand! 
Combining the silly fun of karaoke with the energy of a live rock band, Live Band Karaoke allows anyone to fulfill their rock and roll fantasy.
Singing is only half the fun! Watching others performing their unique renditions of rock's greatest songs also contribute to the hilarity. Some singers really belt out the tunes, while others make up for a lack of singing ability with rowdy stage presence. Either way, the irony and humor work on many levels as the band rocks out the songs true to the original recording. Band members can also contribute as back up vocalists and help out with forgotten lyrics.
Live Band Karaoke provides lyric sheets for any song on the list. The lyrics are printed in large type so they are easier to read while singing. There are tons of songs to choose from covering all areas of rock and roll providing something for everyone.
8:00 pm   Coronation of the Homecoming King and Queen 
Join us at the stage where we will crown this year's King and Queen. Outgoing royalty, Jazmin Jordan and Tyzhay Mitchell-Scott will be on hand to pass the torch to this year's student leaders. 
Approx 8:30 pm   Annual Homecoming Fireworks 
Saturday, October 5
9:00 am       Student Athlete Advisory Council and Phi Sigma Sigma's Color Run to benefit the Make A Wish Foundation 
11:30 am     Mascot Brunch -  Pre-registration required .... Join PJ the Mountain Cat and other local mascots for some eats and treats at this inaugural Mascot Brunch on campus! 
12:00 pm    Delta Chi Fraternity annual Pig Roast 
Men's Soccer v Mercyhurst  (Soccer Field) and Student Athlete Reunion (pavilion)
Free Family pics by the Photography Club (various locations) - we have three sites set up to take pics of your day on campus!  Choose one of the three sites, sign up for a timeslot and the Photography Club will upload your pics to Flickr for you to use!  Share your Pitt-Johnstown experience with others by using this on your social media, frame them for your home or workplace, etc! 
Make it and Take it Pitt Activities in the Cambria Room, Student Union  sponsored by Student Affairs
2:00 pm - Alumni v Students Athletic games!   Athlete Alumni events. 
3:00 pm      Student Government Association Reunion 
6:00 pm      Pitt-Johnstown Alumni Gala 
7:00pm     We are taking steps to end cancer. We Light the Night »   
10:00 pm   Student Government Association annual Homecoming Log Cabin Dance  (must have a student id and be on the list with the students by Thursday at noon)