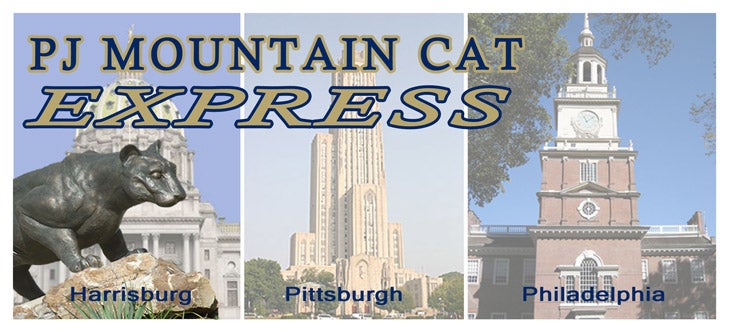 In an effort to help meet the travel needs of our students from an ever-wider geographic region, we are pleased to have implemented the Mountain Cat Express, providing transportation for students to and from the Pittsburgh and Harrisburg/Philadelphia areas.
Upcoming trips:
Buses Home Weekend: Friday, October 11; Returning Sunday, October 13
Thanksgiving  Recess : Friday November 22;  Returning Sunday, December 1
Spring Recess: Friday March 6; Returning March 15 
Seating is limited and registrations will be accepted on a first-come, first-served basis. 
Departures: Both buses depart from the front of Blackington Hall at 4 p.m. 
Pittsburgh passengers will be dropped off at the Waterfront (@ Dave & Buster's)
Harrisburg passengers will be dropped off at the Harrisburg Mall (@ Macy's)
Philadelphia passengers will be dropped off at the King of Prussia Mall (@Lord & Taylor)
Return Trips:
From Pittsburgh: Bus departs at 4 p.m. from the Waterfront @ Dave & Buster's and travels directly to Pitt-Johnstown. If you miss the bus, it will be your responsibility to find transportation to Johnstown at your own expense. 
From Philadelphia & Harrisburg: Bus departs Philadelphia (from the King of Prussia Mall @ Lord & Taylor) at 3 p.m. and travels to Harrisburg.  Bus departs Harrisburg (Harrisburg Mall at Macy's) at 4:30 p.m. and travels directly to Pitt-Johnstown. If you miss the bus, it will be your responsibility to find transportation to Johnstown at your own expense
---
Register: