Nursing Grad Now Works in NYC Bone Marrow Transplant Unit
Addi Watters, '15, credits the Pitt-Johnstown nursing program for making her the nurse she is today as part of the on the Bone Marrow Transplant inpatient unit at Memorial Sloan Kettering Cancer Center, New York City.
Since graduating, she has received certifications such as ACLS and OCN. She has also been accepted to Hunter College, the City University of New York's Primary Care Adult Gerontological Nurse Practitioner program.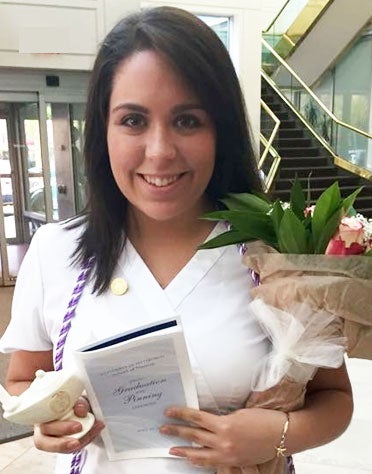 Addi Watters proudly wearing her Pitt Nursing pin.
The Pittsburgh native moved to New York City last year.
"I attended UPJ because of my brother, Drake Watters '14; we are a Pitt family! Pitt-Johnstown was home to me the moment I stepped on campus," she says.
"UPJ Nursing prepared me for the workforce by providing me with life-changing clinical and classroom experiences," she says. "I remember sitting for my NCLEX (nursing boards) with complete confidence because I had four years of preparation. Dr. Katrancha, Dr. Schroeder, Dr. Drahnak, and Dr. George were always available and willing to help. They were not only professors, but role models who made me the nurse I am today.
"I wear my Pitt Nursing pin every day as a reminder of how lucky I am to have been educated at one of the top nursing schools in the country."
While at Pitt-Johnstown, Ms. Watters was a Student Life ambassador, a member of SNAP (Student Nurses Association of Pennsylvania), and Sigma Theta Tau International (honor's nursing society).
She says her favorite memories of Pitt-Johnstown include Homecoming Weekend and visiting her favorite place on campus. "The Mountain Cat – you got a beautiful view of all of campus; you feel like you're on top of the world!"
She now works at one of the top cancer centers in the country, specializing in Bone Marrow Transplants. The patients typically have Leukemia, Lymphoma, or Multiple Myeloma and receive high doses chemotherapy and radiation as treatment. Because these treatments are toxic to all blood cells, patiente require a transplant of bone marrow in order to recover.
"These patients can get very sick, and as a nurse, I need to prepare for any situation," she says. "My education and professors help prepared me for the real world of nursing."
Ms. Watters proudly applies core principles to her work.
"If I could use two words to describe a good nurse, they would be confident and compassionate. As a nurse you need to be confident in complex clinical scenarios in order to promote positive patient outcomes. Nurses need compassion for the patient, their families, and each other," she says.
"The Pitt-Johnstown Nursing Program gave me both of those skills which is why I think I have had success in my career."