Education Led to Distinguished Career
Donato Zucco, PhD, '59, has said that, while growing up in Johnstown, he intended to be a machinist in the steel mill. He became the first in his family to attend college, put himself through school while working and, most importantly, learned how to learn.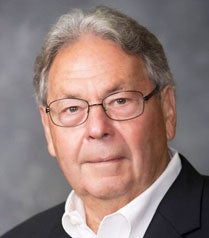 While certain his planned career in the mill would have been rewarding for he and his family, Dr. Zucco's pursuit of education benefitted many.
Dr. Zucco's career includes many impressive distinctions:
Senior Vice President and Chief Administrative Officer at Crown American Realty Trust
20 years in education, including Superintendent of Schools at Greater Johnstown School District)
Mayor of the City Johnstown
He is retired, but currently serves as a member of the Advisory Board for the University of Pittsburgh at Johnstown.
Dr. Zucco attended the Asphalt Campus, a Pitt-Johnstown forerunner location on Cypress Avenue in Moxham.
"Learning is a marvelous experience," he said. "Pitt has been growing the region for 90 years and Pitt-Johnstown is a powerful, marvelous place."
In addition, he served as President of the Medical Center Hospital Corporation, Vice Chairman and CEO of the Johnstown Regional MRI Center, and Administrative Director of the Hiram G. Andrews Center.
He has served on the Board of Directors of the Community Foundation, United Way, and Saint Francis College, as well as a member of the Advisory Board for both the Pennsylvania State Board of Vocational Rehabilitation and for the Crichton Center for Rehabilitative Services.
Dr. Zucco was a member of the Greater Johnstown Committee, the Johnstown Renaissance Committee and is a founding member of the Community Foundation for the Alleghenies.