Educator With a Passion for World Cultures
A childhood fascination inspired by tales of faraway lands has given a recent Pitt-Johnstown graduate both the wanderlust and commitment for a career in international education. In August 2014, Lisa Marie Slippy '12 was packing her suitcase in preparation for just the latest foreign posting in her varied personal itinerary. Not for the first time, Gordon and Ruth Ann Slippy would see their daughter off to her next adventure in another country, a new life in a strange culture — this time to the Czech Republic, for a teaching opportunity in Prague.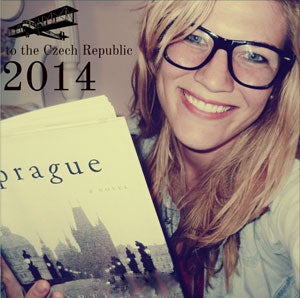 Lisa's Travel Journal Excerpt 
August 19th - Leaving on a jet plane
The move started off on the right foot with a family lunch, no traffic to the airport, and helpful staff. I didn't cry saying goodbye to anyone; this is a first. Feeling under control but hopefully not too stoic. On the Zurich layover, I left the airport by metro...alone! Again chills of independence. Walked along the silvery water, climbed precarious steps for a breathtaking, misty lookout, and then sauntered back to the 'port without a hitch. Whew! Europe here it goes...
August 20th - Making myself at home
It's muggy, I have on too many layers, and my bags are drooping my shoulders by the minute. Where is my pick up person? There he is! A paternal, energetic Scot scoops up my luggage and leads me to the great beyond. After a whirlwind tour of Bubeneč, the signing over of my life to the landlord, and filling my belly with cauliflower soup at a local shop, I set to the task of making my boundaries of familiarity as vast as possible.
August 21st - Exploring Prague 
Waking up in my chilly corridors to a high white ceiling and the silence of midmorning, it is time to explore. I lace up my running shoes, grab the keys, and leap out of the foreign flat. Without a map, a friend, or a car as a crutch, winding through the giant, ornately designed architecture of the city feels like a forbidden treat. Up a hill through an orchard and vineyard of the historic Prague Castle, across the dark chaotic gothic of Charles Bridge, and past coin-seeking statues with the eyes of men is this cobblestoned jewel of Central Europe... Need to take pictures before it all seems normal. Write it all down. Chew over how strangers surprise me, the way a crucifixion statue in the middle of the woods instills awe, or how chants echoing from our local stadium send shivers down my spine. And yet we're all together on this great planet, united by a common thread of our humanity. May we take time to reflect on the patterns of a culture, the makings of a story, the purpose of our choices. Hopefully our tale embroiders a bit of the rich tapestry no one has seen the end of yet.
September 1st - First day of school 
School started today. Absolutely lovely children - they are so small and eager to hear about geography! Quite an adjustment from the daily convincing of high schoolers that "learning is fun." They will start with a rip-out map to see how well they grasp the continents and oceans, then move on to climates, population studies, and even a unit on Ghana. Funny how it is so interconnected with the last gig despite being a continent away. I will be teaching a babysitting course, as well as assisting in learning support and cooking. Variety is the spice of life!
"I have always been interested in meeting people from other countries," said Slippy. "Relatives who traveled would bring presents from abroad, and I knew I would travel, too." At age 14, she got her chance when she volunteered to join a mission-related construction project in Mexico. "I was learning how to plaster," she recalled, "until a hurricane interrupted our trip and we had to cross back into the States for safety's sake."
Other opportunities followed during Lisa's high school years in Pittsburgh: a stint in a Native American community in Kiowa, Oklahoma, as well as a mission trip to Atlanta to work with homeless people. By the time she enrolled at Pitt-Johnstown as an education major, Slippy was an old hand at opening both her head and heart to new people from different cultures, and finding her niche, making her own contribution in whichever situation she found herself.
During the summer of 2011, fresh out of Professor Bill Kory's "Geography of Africa" course, Slippy joined a Youth with a Mission (YWAM) project in Arusha, Tanzania.
"It was my first time on a plane, and I was traveling alone," she explained. "It was a real learning experience, a test of my theory that I could do this."
The first leg of the trip was to Ethiopia, and it proved interesting, to say the least.
"The Harlem Globetrotters were on the plane, en route to Ethiopia! I also spoke with a guy — an American who was getting married to an Ethiopian girl."
On to Kenya and finally to Kilimanjaro, then overland to her home for the next three months, Arusha.
"I taught 'class five English' at an elementary school, which is roughly fifth grade, and art," she said. Art supplies were limited. "We saved scraps of paper — we were thrifty — and shared crayons and paints. Some of my students were very talented."
She was the sole American living with other volunteers in a compound formed by tall thorn bushes. Clearly, she loved every minute of her time in Tanzania. "I was sad to leave," she admitted. She hopes to return to Arusha someday.
In the fall of 2012, Lisa's freshly-minted teaching degree earned her a post at a Christian American school in Accra, Ghana, where she would teach students who hoped to continue their educations at U.S. universities. She was back in Africa, and found Ghana to be a world apart from Tanzania.
"Tanzania's cuisine is similar to Indian food, with spices and curries," she explained.
"In Ghana, the ingredients are more like Caribbean food, with cassava, plantain, mango, pineapple. Also fish and 'jollof' rice, a sort of stew. And banku and fufu — these are balls of a sort of bread dough that you dip in stews. Always with your right hand — it is considered rude to eat with your left hand."
Thanks to family and friends who chipped in to buy her plane tickets, Slippy made it home for Christmas that year.  She remained in Ghana until summer, 2014, when she applied to teach in a British System school in Prague.
At the Riverside School, she expects to serve alongside faculty from other Commonwealth countries such as Canada or New Zealand. She has already acquired a German roommate, with whom she will share an apartment.
As she contemplated her move to the Czech Republic, Lisa tried to summarize the fundamental lessons she has gleaned from her already prodigious travels. "I do an exercise with my students called 'Travel and You," she said. "I make a flow chart on travel impacts, in three steps: you go to a new location, you learn, and what you learn changes you, changes your attitudes.
"People tend to think in absolutes, what things should look like. But in different cultures, you cannot think in terms of good or bad — only different. There are good and bad characteristics in every society, but many things we THINK fit one or the other are actually just preference. It is very important to learn more respect for people of all cultures."